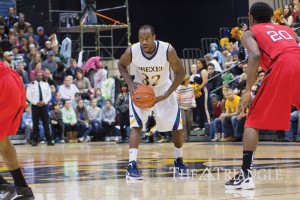 In order to be a great defensive team, or defensive player, you need to have certain traits. You need to be physical, intense and aggressive, yet responsible on the defensive end.
Derrick Thomas, the starting two-guard for the Drexel men's basketball team, embodies all of those qualities and more and has asserted himself as a premier defender in the Colonial Athletic Association.
A 6-foot-4-inch junior from New York City, Thomas grew up watching the city's best play basketball on the outdoor courts like many before him.
"I started playing when I was in fourth grade," Thomas recalled. "My friends and I used to watch games at Rucker Park in New York and see all the street legends play."
Thomas started his high school basketball career at Northfield Mount Herman School in Gill, Mass., about four hours north of New York City. He then transferred to St. John's College High School in Washington, D.C. for his junior and senior years when his family moved to Maryland.
It was during his senior year when he began to get recruited by Division-I teams, including CAA schools such as James Madison University, George Mason University and Drexel. Thomas signed his letter of intent to play for the Dragons on April 20, 2009.
"I came to Drexel because they showed me the most love and were the most interested in me," Thomas said. "I got close with coach Bruiser [Flint] and [former assistant] coach Chiles during the recruiting process."
Since he burst onto the scene in the Drexel blue and gold, we have seen Thomas sporting a No. 32 jersey, but that was not always the case. Playing for three different teams during his basketball career, Thomas has sported three different numbers, but all with the same idea in mind.
"I have a saying: 'Love my five," Thomas explained, "which represents my five core family members.
"I wore No. 5 when I was at Northfield Mount Hermon, then No. 23 at St. John's. When I came to Drexel, I felt I was at a new stage of my life, so I switched it to No. 32; which is still related to five."
With No. 32 on his back and a defensive mentality highly touted by head coach Bruiser Flint, Thomas started for the Dragons as an incoming freshman. Since then he has served as an ironman of sorts for Drexel. Out of the 83 games the Dragons have played the past two-plus seasons, Thomas has played in 81 of them and been in the starting five 79 times.
Thomas sees the importance of being on the court every night to the team and his teammates.
"It means I just need to bring it every game," he said.
Through the first 20 games of the season, Thomas and the rest of the Dragons have brought "it" on the defensive end every game. Through Jan. 25, Drexel is fourth in the NCAA in points against, allowing its opponents to score only 54.3 points per game.
The Dragons are 30th nationally in field goal defense, holding their opponents to just 39.3 percent shooting from the field. They also boast the best three-point defense in the country, holding their opponents to an incredible 25.2 percent from beyond the arc.
Personally, Thomas likes to keep it simple on the defensive end. When asked what he does in order to prevent his guy from scoring, he explained his attention to detail.
"I watch film and pay attention to their tendencies, then do whatever it takes to stop them."
Thomas' "whatever-it-takes" mentality is what has helped him to become a shutdown defensive player and has helped the Dragons become a defensive powerhouse over the past few seasons.
"He gives us a physical presence," Flint said. "Derrick is one of the best defenders in the conference and gets better each season as a result of working hard in practice."
Despite being regarded as an elite defender, Thomas has not yet been named to the CAA All-Defensive team, something that he would like to change by the time he graduates.
"There are some personal milestones I'd like to accomplish," Thomas admitted. "I want to be an All-CAA player here at Drexel and earn a spot on the All-Defensive team."
But right now, Thomas is focused on the team and is enjoying the Dragons' winning ways during the past six weeks. Since Dec. 10, Drexel has gone 14-1, including a current eight-game winning streak against the likes of Virginia Commonwealth University, George Mason and, most recently, Georgia State University, avenging a loss to the Panthers from earlier this season.
"This entire season has been a lot of fun," Thomas said. "Our team gets along great, and we've played really well collectively."
The Dragons will look to extend their win streak to nine against rival University of Delaware at the DAC Jan. 28 at 2 p.m., part of the weeklong 2012 Drexel Homecoming celebration.
So, if you made it to this point in the article and have not quite realized what Thomas is all about on the basketball court, just think of this — Thomas' favorite current NBA player is Dwyane Wade, superstar guard for the Miami Heat. If most people were to play a game against their favorite player, a dream scenario might be to dunk over him or drain a shot over his outstretched hand, but not Thomas.
"If I could play against anyone in the NBA right now, it would be Wade," Thomas said. "And I would want to shut him down."