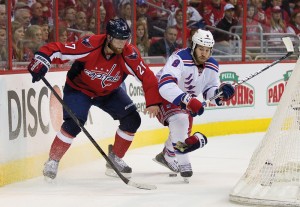 Superstitions exist in all sports, but hockey players are known to take them to another level.
Every player has his own pregame ritual that stretches beyond the game itself. Whether it's having spaghetti and meatballs or a porterhouse steak from an expensive steakhouse, every player likes to stay in his comfort zone. During rituals in the locker room, each player has his own way of getting ready. Some players just have to put on their left skate before their right skate. Some players need to tape their sticks before they tape their socks and shin pads. Players even go as far as needing to tape their stick before even talking to anyone else on the team.
Seems borderline insane, right? But it's all about staying in your comfort zone.
Traditions are a whole other story. Those traditions are firmly put on display in the Stanley Cup Playoffs. Traditions can easily be confused with superstitions, but after practicing them for over 20 years, I would start to consider them traditions. Traditions such as not touching the Clarence S. Campbell Bowl or the Prince of Wales Trophy when a team wins its conference championship have been upheld for years.
The Los Angeles Kings displayed this tradition May 23 when they won their series against the Phoenix Coyotes for the Western Conference title. Captain Dustin Brown refused to touch the Clarence Campbell Bowl to symbolize that the Kings aren't there to win that trophy; they are there to win Lord Stanley's Cup.
Silly as it seems, these are the things hockey players worry about.
One of the most visible traditions during the playoffs is the famed playoff beard. While players aren't required to grow a beard during a Cup run, they are strongly encouraged to do so.
The playoff beard tradition was started in the 1980s by the New York Islanders during their dynasty years. The practice didn't start as a superstition, though. Many of the players have noted that it was just something that happened during the rigorous first round schedule where teams would play four games in five nights.
Since then, the playoff beard has extended into a team-building exercise, reminding players when they wake up in the morning that it's crunch time.
And like everything else in hockey, it has evolved into a superstition. Players have integrated it into their "keeping everything the same" routine. I would venture to guess that most players believe that if they shave in the middle of a Cup run that something bad might happen — the old mentality of "If it ain't broke don't fix it."
The tradition has extended to fans, where they grow beards with the players. Organizations have caught on and have started fundraising efforts for fans who grow beards. Organizations give fans an opportunity to get pledges from people and raise money for a charity just for growing a beard.
Although playoff beards seem like an exclusively hockey-oriented ritual, big businesses have also caught on. Companies like Gillette have sponsored playoff beard shaving, like last year when Tim Thomas won the Cup and shaved off his beard.
Playoff beards are starting to become less of an inside hockey movement and more of a corporate thing.
Will that be the end of the playoff beard? Will it finally fall out of favor? I surely hope not. I personally love the idea of unity among the team. So stay out of it, big corporations!