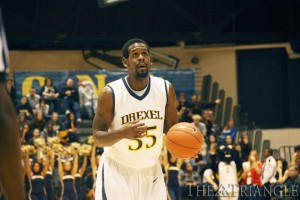 The world of college recruiting for any sport is a risky business, specifically at the Division I level at which Drexel currently competes. I was able to get an inside look at the recruitment process for a typical Division I basketball head coach earlier this week when I sat down with Drexel's men's basketball head coach James "Bruiser" Flint.
Throughout the interview, Bruiser walked me through what it is like to recruit for his team on a yearly basis. It starts with the Amateur Athletic Union basketball tournaments in the summer. Flint said that over 5,000 kids go to these tournaments, and although coaches don't get a chance to see all of them play, they get a chance to get all of the players contact information for further communication.
After talking to all the kids and seeing many of them in action, Flint and his coaches compile a mailing list consisting of about 500 recruits who will receive bi-weekly recruitment letters. Of those 500, there are 100 kids that receive emails. Those 100 are the serious recruits that Flint and his staff begin to focus their attention on.
Once all of this is completed, the current roster is evaluated in order to see what positions are needed so that Flint and his staff have a direction to take with their recruiting.
Along with outside scouting services, Drexel also has in-house recruiters in Flint and three of his assistant coaches — Mike Connors, Ashley Howard and Matt Collier — who physically go out to watch these recruits.
Flint went on to say that by the end of a player's sophomore year of high school, he and his staff know what their plans are — for the most part. But sometimes, he said, they will see a kid in his freshman year and know they want him. In this case, they recruit him all four years. Other times, they won't see player until his senior year, in which case recruiting becomes a bit more difficult.
Another issue that is common for mid-major schools such as Drexel or Virginia Commonwealth University is that when staff members are out recruiting, they have to determine whether or not Drexel has the potential to successfully recruit a player. There are some kids that, as a mid-major university, Flint says aren't worth recruiting because "they're going to [the University of North Carolina] or the Big East, so you don't recruit them."
One issue that plagues all college coaches are the National Collegiate Athletic Association contact rules, which prevent universities from contacting a recruit over a certain amount of times in a given week or month.
"As coaches, we feel as though we do not have a lot of contact with the kids, so you don't really get to know the kids," Flint said. "When I first got into coaching, you could call at any time, you could do all that — it's not like that now. As a junior you can only call him once a month; as a senior you can only call him twice a week, and seniors go from June to November before their first signing period, so you don't really get to know the kid.
"The only thing you know is that the kid is a good player; I think that makes a difference. I also think that's a reason why there's a lot more transfers, because you don't really get to know the kids like you used to, and the kid doesn't really get to know you either."
One way Flint gets around issues like this is by utilizing the "unofficial visits" to recruit local talent. An unofficial visit is when a prospective player visits the school via their own finances; whereas an official visit is paid entirely by the university. Prospective players can come for unofficial visits as many times as they'd like, and Flint is not barred from setting these visits up.
Last season Drexel had two stellar freshman performers in Frantz Massenat and Dartaye Ruffin, both of whom were named to the Colonial Athletic Association's All-Rookie team.
Flint explained that Massenat was a local talent from the Trenton, N.J., area, so he was able to come with his father for unofficial visits.
"By the time we got to the home visits, [Massenat] had basically made up his mind," Flint said. "There was no official visit until after he committed [to Drexel]."
Ruffin was a completely different story because he went to multiple high schools. It was unclear whether or not he was going to stay in high school or go to preparatory school, so recruitment of him was as extensive as you would think.
"We figured we'd take a shot before he went to prep school and blew up and [then] we wouldn't have a shot at him," Flint said. "So we spent time with him early in the process because he decided to go with us; even though we sent him to prep school the next year, he kept his commitment to us."
One thing Flint relies on are AAU and high school coaches as they assist him in recruiting. They tell Flint how to approach the prospective players and to make sure their parents are comfortable with Drexel, among other things.
Flint also makes sure he is completely honest while recruiting players. He makes sure that they know what they are getting into when they play for him. He asks them, "Have you ever seen me coach? Because I challenge you."
"One reason why we don't have a lot of guys transfer is because what I tell them is what's going to happen," Flint said. "The biggest thing about recruiting is trust, and the way I coach, I've got to tell the truth because they will look at me like I'm crazy. But I tell them that from the door that this is how I am, so there are no surprises."
Flint emphasized the fact that he makes no promises other than guaranteeing his players that they will get the necessary assistance in order to earn the degree they came to Drexel for. He said he never promises playing time because it causes a lot of issues.
Parents can also be crucial in the recruitment process, and Flint makes sure his players know that.
"Parents love [their child]; they like the team," Flint said. "If their kid is on the bench, but the team is 25-0, [the parents] are unhappy; if the kid scored 25 points, but the team is 0-20, the parents are happy."
As for his actual approach to recruitment, it's actually quite simple: he strives to be honest, because players never forget. In addition, Flint constant reminds himself and the other coaches that they won't get every kid they recruit, so strength is most definitely in numbers.
"There's some luck that goes along with this, but I've always felt as though in recruiting, you've got to have quantity, not just quality; you've got to be able to recruit enough guys, because most of the time you never get your first guy because you're reaching for the stars," Flint said.