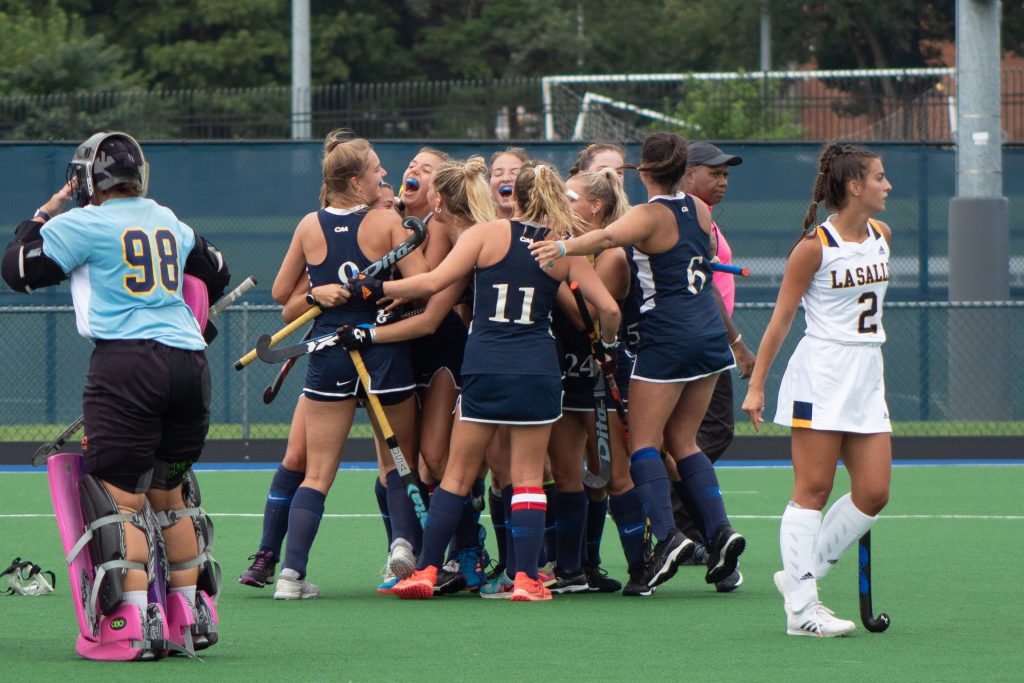 Welcome to Drexel University! You probably did not come here because of Drexel's sports program, but now that you are here you might as well become an expert in our athletics! It may seem like a lot, so I put together an ABC's of Drexel Athletics to catch you up to speed.
A is for Amari Williams: Williams is not only the best player on Drexel's basketball team, but he is one of the best players in the Coastal Athletic Association. He is the reigning two-time Defensive Player of the Year and one of the best defensive players in the nation. He also has a habit of posterizing opponents, making every Drexel basketball game must-see TV.
B is for Basketball: Basketball is Drexel's most popular sport on campus. Both Men's and Women's basketball have had success recently, making it a great time to be a Drexel Basketball fan. From November through March, there is no better place to be than the DAC student section cheering on our teams.
C is for Club Sports: If you are reading this article, you are probably not a Division I scholarship athlete. However, that does not mean that your sports career is over! If you have a passion for playing sports, joining a club sport is an amazing way to stay involved in the activity that you love at a high level, whether it be the classic sports like baseball and soccer, or more niche sports like sailing and snowboarding.
D is for DAC Pack: The DAC Pack is the name for Drexel's student section. If you are looking to go to a Drexel game and have a great time, look no further than the first row of the student section and join the DAC Pack.
E is for Eagles: The Philadelphia Eagles are this city's most beloved squad. While "The Birds" have not historically been a successful team, they are looking like Super Bowl favorites coming into the season. If you ever get the chance, make sure to take in a game at Lincoln Financial Field; you will have a blast.
F is for Football: Drexel hasn't had a football team since 1973, unless you count the improv group called the Drexel Football Team. We do have fútbol, however. Last year, our women were unbeaten through the first ten games of the season, one of only ten teams to have such a successful start to the season. On the men's side, recent alumnus Chris Donovan is currently playing for our Philadelphia Union in the MLS.
G is for GOATs: With such a lengthy history, Drexel has produced a number of great athletes. Notable athletic alumni include Damion Lee, Keishana Washington, Malik Rose and Gabreila Marginean.
H is for Hockey: Drexel has a Division I Club Men's Ice Hockey team, as well as a Division I Varsity Field Hockey team. Our Field Hockey team is coming off of a season which saw us make it all the way to the CAA Finals. If you want to watch the Dragons on the ice, head over to University of Pennsylvania's Class of 1923 Arena on 31st and Walnut, entry is free and you are bound to have a great time.
I is for Intramurals: Intramurals are a great way of getting involved in sports if you are just looking for a fun way to get active and be competitive with your friends. Intramural leagues are free for all students to participate in, with a range of sports from soccer to ESports.
J is for Jenika Cuoco: As a sophomore, Cuoco started every Lacrosse game for the Dragons and helped guide them to the NCAA tournament. She had the 13th-lowest Goals Against Average in the NCAA and is definitely someone to look out for this year.

K is for Maisha Kelly: Maisha Kelly is Drexel's Athletic Director. A Philly native, Kelly is also the first Black Woman to lead a Division I sports program in this city.
L is for Lorie Lemongo: Drexel's number one female tennis player, Lemongo led the Dragons to the largest upset in CAA tournament history last year. Keep watching for Lemongo to make noise on the court in her junior season.
M is for Mario the Magnificent: Mario the Magnificent is Drexel's mascot. You will see him at every sporting event and even at some campus events. Whether Drexel wins or loses the game that day, we have never been defeated in a battle of who has the better mascot.
N is for Drue Nicholas: Nicholas has excelled on the Golf course during his Drexel tenure. With two straight years of top-five finishes at the CAA championships, Nicholas looks to bring home the championship in his senior year.

O is for Olympics: Did you know that Drexel has a history of producing Olympians? Especially in Crew, Drexel has consistently sent rowers to represent their country and University in the Olympics. On top of all that, Sebastian Smith, a current Sophomore at Drexel, just qualified to compete for the 2024 Team USA Olympic Trials in Swimming.

P is for Paul Savell: Savell is the coach of Drexel Rowing. Rowing is another outstanding program here, with the men finishing ranked 14th in the nation last year and the women coming in second place at the CAA Tournament.

Q is for Quakers: The Quakers are the mascot of our neighbors, University of Pennsylvania. A member of The Big 5, we will be looking to assert our dominance over University City in The Big 5 Classic this December. While they may be in the Ivy League and have a $20 Billion endowment, they live in constant fear of being embarrassed by the Dragons.

R is for Rivalries: If you should know one thing about Drexel rivalries, it is this: Delaware sucks. We hate University of Delaware. Especially in basketball, even our worst seasons have a silver-lining if we can embarrass the Blue Hens. Luckily, we are pretty good at that. In fact, we have the Division I Basketball record for largest comeback win in history which was set when we came back from down 32 points against Delaware.
S is for Squash: Do you know what squash is? Have you ever played it before? Odds are, probably not. But you are at Drexel now and you better learn! Both our men's and women's squash teams are top five in the nation, so if you want to see greatness, make sure you pull up to the Kline and Specter Squash Center in the DAC.
T is for The Big 5: The Big 5 is the informal athletic association of Philadelphia area colleges competing in athletics, composed of Drexel, Temple University, Villanova University, St. Joseph's University, La Salle University and UPenn. This year there will be a series of massively important basketball games between Drexel and our rivals, where we will have the opportunity to shut up all of our naysayers around the city and display our superiority.
U is for Underdog: Drexel classifies as a Mid-Major school. That means when we compete against bigger schools like Temple or West Virginia University this season, pundits will claim we are the underdogs. Little do they know that Drexel thrives as the underdog and we have a long history of upending high major teams.
V is for Vidas: Vidas Athletic Complex, located at 43rd and Powelton, is the home of Drexel Soccer, Lacrosse, Field Hockey, Softball and Tennis. In addition, many intramural and club sports also take place at Vidas. Students can avoid the walk by taking the free Powelton Shuttle, which picks up just outside of the DAC.
W is for Women's Sports: Whether it be on the court, a field or in a boat, Drexel's women routinely are the pride of our athletics program. If you are a true sports fan, you cannot skip out on our women's sports teams.

X is for Lax: This might be a cop out, but thinking of an X word is hard! Our lacrosse teams are both quite good, especially our women's team who finished ranked 25th in the nation last season.

Y is for You!: Anyone can participate in a wide range of intramural and club sports here at Drexel. Intramurals are a fun way for students to play sports and get their competitive juices flowing. Club sports are open to anyone, however, some require you to try-out for the team.
Z is for Zero: There is zero reason to not get excited and get involved with Drexel sports! Show your school spirit and support the Dragons every chance you get; you won't regret it.