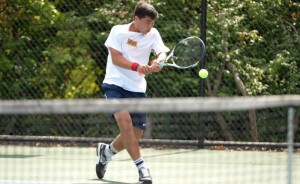 The Drexel men's and women's tennis teams continued their torrid pace of wins by closing out 2014 with decisive victories over Rider University and Saint Peter's University. The men's team was faced with a back-to-back against Saint Peter's and Rider. They kicked off the singles matches against Saint Peter's with a disappointing loss as senior Alex Fioravante lost in three sets. The team would rally back to claim the next five singles games, effectively netting the win for Drexel. In the doubles games, it was Fioravante and Dan Koehler pairing up for Drexel in the first game where they barely lost 7-8.
Despite the fact that they already had the win, they still came out in full force, which was evident when doubles partners Xabier Saavedra and Kashyap Ashok thrashed their opponents 8-1. Drexel sent out Vuk Subotic and Daniel Hansen to grab the sixth point. Saint Peter's would go on to deny them, winning 8-7 and salvaging the doubles point. Drexel won in the end 5-2 for their first win of the season.
There was no time to rest as they went against Rider that very same day. This time, the men's team completely shut out their opponent, 7-0. Fioravante redeemed his previous loss against Saint Peter's, winning in straight sets, 6-2, 6-3. All of the singles sets resulted in straight set sweep wins for Drexel, which was highlighted by 6-0 set wins by freshman Hamza Laalej. The doubles matches proved to be much more of a challenge to the Dragons. Fioravante and Koehler went first for Drexel and were on the winning side of a narrow game after losing a similar one against Saint Peter's. With the perfect shutout, the men's team head into the 2014 hiatus at 2-0.
Not to be outdone, the women's team also had their opportunity against Rider. They matched the men's team with a shutout of their own and pushed their regular season record to 2-0. The team had an array of straight sets shutouts, which featured the three talented freshmen not allowing a single point. The doubles matches were just as impressive. Nicole Pivonka and Clary Rodriguez Cruz paired up for a shutout to start Drexel off on the right foot. Erin Bowsher and Ryshena Providence didn't do quite as well in their win when they allowed just one point. With the doubles points already sewed up, Drexel didn't let up as Kendra Bunch and Lea Winkler got another shutout win to earn the complete doubles sweep.
With a two-and-a-half month layoff looming until the next round of games, coach Mehdi Rhazali had some advice for his players on how to deal with it: "The layoff is also a time where we work on mental toughness because you have a long break with a lot of temptations around you such as staying up late socializing, more free time which leads to less focus, the Christmas break, less court time indoors if you aren't on campus, etc."
He continued: "We have to make good choices and discipline ourselves without being told, and that can be a tough thing to do, but we are trying to do it at a consistent basis. Our November practices are more detailed and with smaller groups because of the nature of the game. We will spend more time on strengthening and being more detailed and efficient when we are in the gym in order to stay fit and healthy."
After the long break, both teams will kick off the 2015 year Jan. 17 with the Philly Six Invitational.