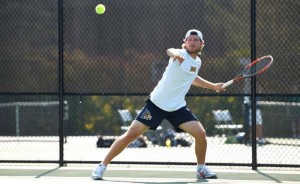 In what was the last tune-up before heading into a three-month break, the Drexel Dragons tennis teams participated in the final tournament in the form of the Intercollegiate Tennis Association Northeast Regionals. The women's team traveled to West Haven, Connecticut, while the men's team made the closer trip to the New York borough of Queens.
Head coach Mehdi Rhazali was optimistic heading into the regionals; "In the men's side we have been doing a lot of video analysis and match play. We focused on first serve percentage and returns. Both teams have been practicing indoors since the ITA will be indoors, women at Yale University and men at the Billie Jean King National Tennis Center in New York. I think we are ready, and this year's selection is better than the previous years, which shows that Drexel Tennis is on the move," he said.
On Oct. 16, Ryshena Providence headed into a qualifying draw against the University at Albany. She easily brushed aside the challenge, winning in straight 6-3 sets. However, she fell short in her journey the following day when she lost to Yale in straight sets, 2-6, 1-6. The same day, the doubles competition took place. The women sent two pairs, Erin Bowsher and Lea Winkler followed by Nicole Pivonka and Clary Rodriguez Cruz. The University of Pennsylvania shut down Bowsher and Winkler in the first round, 2-8. Pivonka and Rodriguez Cruz meanwhile advanced into the second round with a close 8-6 win over Fordham University. However, they were ousted after Cornell University blanked them in round two, 3-8. Pivonka headed into play the final singles match for the Dragons but was stopped by Cornell, 2-4, 4-6. The women's team now set their sights to Oct. 26 where they'll meet Rider University for the final game of 2014.
The men's team meanwhile held play in Queens. Still without top player Badr Ouabdelmoumen because of an injury, the Dragons sent out Xabier Saavedra for the first singles match Oct. 16. After losing a close first set to the U.S. Military Academy, 5-7, he couldn't escape to force a final set, losing the second one with the final score going 2-6. Senior Alex Fioravante was next for the Dragons, and was shut down by Stony Brook University in straight sets.
Finally, the Dragons sent out doubles partners Fioravante and Dan Koehler for the third and final match Oct. 17 and the invitational. They would head out after losing an agonizing match to Saint Francis University, 7-8. Looking ahead, the men's team will finally begin their conference season after the series of invitationals and tournaments.