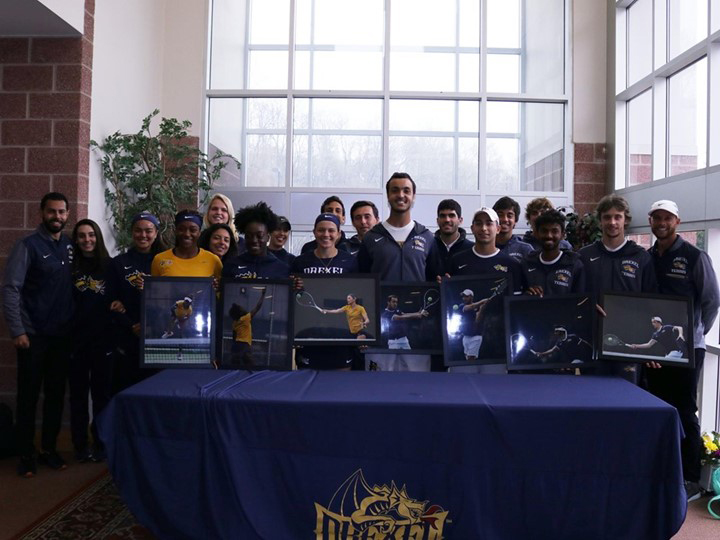 Both the Drexel University men's and women's tennis teams defeated Hofstra University April 15 at the Legacy Youth Tennis and Education Courts. The women's team swept their match, 7-0, while the men's team took down the Pride with a score of 4-3. With this win, the men's team tied the existing program records for most matches won (13), and also highest percentage of wins (0.500).
After celebrating the Senior Day presentations, the women's team started the day strong by sweeping their doubles point. Senior Kendra Bunch and sophomore Ghita Benhadi took a speedy 6-0 win at the top spot, followed by freshman Salma Ziouti and senior Clary Rodriguez Cruz with a 6-4 win at No. 2. Senior Ryshena Providence and freshman Mya Fuentes finished out the doubles with a 6-1 win at No. 3.
Moving to the singles, the Dragons wasted no time in shutting down Hofstra's chances with convincing wins across the board. Bunch took down Jasmine King, 6-0, 6-1 to set the tone. This was followed by Benhadi taking a 6-3, 6-1 win over Michal Kaplan and Ziouti downing Alejandra Ruffin at No. 3, 6-1, 6-2. Fuentes' 6-2, 6-3 win over Mehque Khokhar saw the fourth singles win of the day.
To close things out, Cruz and Providence won their final home matches in Drexel uniform. Cruz beat Sarah Herndon, 6-3, 6-4 while Providence swept Odessa Stork, 6-3, 6-1.
The men's match started off on a slightly different foot as they dropped the doubles point before taking the match win in the singles. Despite a 6-0 doubles win from senior Hamza Laalej and freshman Xandy Hammitt at No. 3, the Pride pulled away with the other two victories for the point.
In need of singles victories, the Dragons came out strong and won four matches of six to take home the win. Laleej and senior Balaji Lakshmanan, battled out tough matches to take the wins at No. 1 and 2. Laalej defeated Marcus Smith, 7-6 (9), 6-4, followed by Lakshmanan's 6-2, 7-6 (6) win over Niko Vulinovich.
Junior Sinan Orhon managed to defeat Coco Haener convincingly, 6-1, 6-0, but despite solid efforts, senior Vuk Subotic fell to his opponent at No. 6. To secure the match win, graduate student  Bernard Tefel clinched in style with a sweep, 6-0, 6-0.
Both Drexel teams will return to action when they head to the Colonial Athletic Association Championships hosted by Elon University, beginning April 19. As always, follow the action on www.DrexelDragons.com or live on DragonsTV.