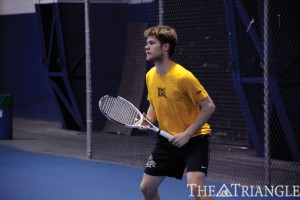 Although the Drexel men's and women's tennis teams came up short in the Colonial Athletic Association Tournament, they can now look back and appreciate successful seasons on the hard court.
The men's team finished the regular season with a 9-8 overall record, including 5-1 in home matches. The Dragons lost three of their top four players from last season, which meant a new haul of talent into the program.
"We had a very young team this year with five freshmen on the roster," men's and women's head coach Tricia Udicious said. "And they all stepped up and played crucial roles for us."
With a bulk of the team being underclassmen, Drexel maintained strong leadership from its more experienced players.
"I am extremely proud of how our upperclassmen handled themselves this year," Udicious said. "Players such as [sophomore] Skyler Davis and [junior] Jeganathan Srinivasan raised their games and pushed our younger players to do the same."
The lone senior on the team, Bryan Nguyen, was one of those leaders as well. Hailing from Galloway, N.J., Nguyen was a stable presence in the Drexel lineup for all four years of his career.
"Bryan was a leader by example on the court," Udicious said. "Every one of his opponents knew they were in for a battle when they faced him, and Bryan won that battle most of the time.
"Bryan will be the first to tell you that he does not have the prettiest game in the world," Udicious continued. "But he used what he had better than any player I have ever coached."
Nguyen thrived on team chemistry and made the most of his time as a Dragon. As a health sciences major, he will graduate in the spring with an undergraduate degree, and he plans to continue on to graduate school for health service administration.
"I have continuously grown and matured in the course of four years," Nguyen said. "I can't pinpoint one thing that I will remember the most because I have learned and experienced so much throughout my time at Drexel.
"Up until college, tennis was an individual sport for me. It was amazing to have a team that supported me to fight and win, which I thrived off of. That's something that will definitely stick with me for a long time."
Speaking of thriving, that is exactly what the women's team did this season. The Dragons finished the year with a 13-8 overall record, including an astounding 8-1 in the Armory. It was a complete team effort to post the most team wins since the 2008-09 season.
"I believe this was the deepest team I have had here at Drexel," Udicious said. "We had a solid lineup one through six and worked very hard as a team to shift our doubles play from a weakness to our strength."
Drexel defeated Towson University in the CAA Tournament before bowing out to top-seeded Virginia Commonwealth University in the second round. This marked the fourth straight year in which the Dragons won a match in the CAA Tournament.
"[Sophomore] Zeynep Mafa had another stellar year at No. 2, [junior] Emma Brook and [sophomore] Alex Bell were solid at Nos. 4 and 5," Udicious said. "Meanwhile, newcomers [sophomore] Marcela Rosales and [freshman] Nicole Pivonka added consistency that we have lacked in the past."
Two players who have been on the team for the entire string of success are seniors Sonja Stosic of Belgrade, Serbia and Elise Leizerovich of Thousand Lakes, Calif., both of whom have just wrapped up their outstanding Drexel tennis careers.
"Sonja led by example on the court," Udicious said. "She fought through nagging wrist injuries all year and was a strong No. 1 for us in singles and in doubles with her partner Zeynep."
Udicious continued, "Elise was more of a leader off the court. She helped the younger players adjust to their new team and was a big reason for the improvement of our doubles play with her partner Marcela."
With the departure of three key players, the Drexel men's and women's teams will look for the experience gained by the younger players to carry into next season. But even Udicious knows that none of that could be possible without the support and leadership from the outgoing seniors.
"I, along with my assistant coaches and their teammates, will miss Bryan, Sonja and Elise very much," she said. "We would all like to thank them for everything they have done for our program."