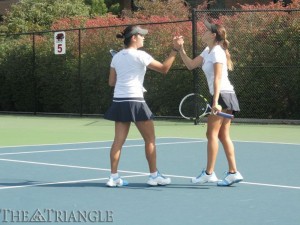 Talent without consistency in sports is many times what makes or breaks great athletes and teams. Consistency is one of the main things that head coach Mehdi Rhazali has been working on with his Dragons tennis team. Coming off a strong all-around team performance in the opening weekend of their season, Rhazali wanted to see if his team would have a letdown or improve on its impressive start.
The women's team proved that there would be no letdown, as several members of the team had had strong displays. Leading the women at the Saint Joseph's Invitational, Sept. 29-30, was the trio of sophomore Nicole Pivonka, junior Alex Bell and senior Emma Brook. Pivonka continued her stellar start to the season by defeating Nicole Esposito of Saint Joseph's University and Lydia Colvin of Bucknell University to reach the semifinals of the Saint Joseph's Invitational. Rhazali praised Pivonka's aggressive baseline, strong defense and excellent hands for her impressive start to the season. She has the team's best singles record of 5-2 on the young season.
Pivonka's record is remarkable considering that she must serve underhand due to an injury, which puts her at a disadvantage every time she steps on the court. However, Pivonka has persevered and shown incredible fitness and determination, which has led her to be the team's best singles performer despite her injury.
Along with Pivonka, Bell had a great performance at Saint Joe's.
"Alex is a grinder, consistent, and smart when on the court. She didn't try to do too much in her matches and was just consistent, and that helped her reach the semis," Rhazali said of Bell. As a result of her consistency, Bell defeated Catherine Senopolous of Lafayette University 6-1, 6-3 in the quarterfinals and Yalda Hajavi of Villanova University 6-1, 4-6, 10-6 in a very tough match that included a wild tiebreaker. Brook also had a great tournament by defeating Karma Parbhu of the University of Pittsburgh 6-3, 6-4. Brook lost to Aurora Davis of St. Joe's in a very tough and hard-fought quarterfinal match by a score of 6-7 (13-11), 6-3, 11-9.
A key and devastating event for the women's team occurred in the semifinals of the doubles flight, when Pivonka and freshman Erin Bowsher were in a heated match. Bowsher slid, lost her footing and tore her anterior cruciate ligament and medial collateral ligament. Rhazali is deeply saddened by the move because Bowsher was off to a great start to the season, especially in doubles.
On the men's side, the Dragons played at the University of Pennsylvania in the Penn Invitational, Sept. 29-30, for the first time in many years. Sophomore Badr Ouabdelmoumen continued his very impressive start to the season. Ouabdelmoumen advanced to the quarterfinals by defeating Eric Frueh of the University of Minnesota 6-3, 6-4. Frueh is a member of the Golden Gophers' 36th-ranked team. Ouabdelmoumen later lost 6-4, 2-6, 10-8 to highly-ranked Dan Hirschberg of Brown University in a hard fought match.
"If he had won that match, I believe that he could have went to the finals, if not won the draw," Rhazali said of his sophomore after such a tough loss.
Not only did Ouabdelmoumen have an impressive showing but Rhazali said that the entire team stepped up. Junior Skyler Davis had a great showing despite an injury.
"Skyler played really well through an arm injury. He managed his matches really well," Rhazali said. Davis was forced to use his slower second serve to ease the pain on his arm in matches. However, Davis persevered and advanced to the quarterfinals of the draw. Junior Alex Fioravante also advanced to the quarterfinal thanks to an impressive 6-0, 6-3 win against Andrew Berman of the Quakers. Rhazali praised Fioravante's energy and tempo in matches and practice.
Other Dragons in the invitational had great success in the tournament. Senior Jeganathan Srinivasan handled Rios Alejandro of the University of Iowa 6-3, 6-1. After falling behind early, sophomore Dan Koehler knocked out Alex Sweet of the University of Delaware 2-6, 6-2, 10-8. Junior Paul Stauskas took down Januka Moros of Temple University 6-0, 6-3. All the men lost in the quarterfinals of their respective draws. In doubles for the men, Rhazali praised the team of Davis and Ouabdelmoumen.
"Skyler and Badr were down in the beginning because they were going for too much, but they played smarter and became more aggressive, especially on the easier shots," Rhazali said.
Going forward, Rhazali said that he is looking for his team to continue the high intensity and keep on showing the consistent play they are displaying early on in the season. If both the men's and women's teams can continue to show consistency in the upcoming match at the Hampton Roads Invitational, then great things await the Drexel Dragons tennis team.