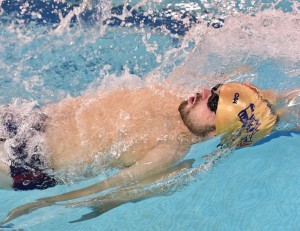 The Drexel University men's swimming team took to the water Feb. 5 and 6 in the New York University Invitational. The men's team had been swimming extremely well, coming into this invitational having won their past five meets. However, this meet did not keep team scores.
On Friday, Greg Buckley, Cameron Hoyer and Ted Dickerson swam in three races. Buckley took sixth place in the 200 back, touching the wall at 1:58.89. This was a very impressive race for Buckley, as he was able to finish five seconds faster than his previous best time.
Hoyer, a sophomore, took eighth place in the 100 free. This was an exceptional showing; with 27 swimmers against him, taking eighth was impressive. Hoyer was able to do this by swimming a solid 48.35. Dickerson, also a sophomore, swam well in the 100 free and gave his teammate a run for his money. Dickerson ended up about two seconds behind Hoyer with a 50.36 time.
On Saturday, Hoyer got back to work and swam the 200 free and the 50 free. In both races, Hoyer swam incredibly well. He was able to swim his best 200 free time with a time of 1:43.99, finishing in second place out of 20 swimmers. Hoyer also finished fifth in the 50 free with a time of 22.48.
Buckley also had himself a great second day. He participated in the 100 back and the 100 fly. In the 100 back Buckley won first place, with a time of 54.05. He came in fifth place in the 100 fly, finishing with a time of 54.71.
Ted Dickerson swam in the 200 free, and the the 50 free. In the 200 free Dickerson came in 13th, with a time of 1:52.89. In the 50 free he came in 18th, finishing with a time of 23.81.
All three of the young Drexel swimmers did a great job in the invitational. The Drexel men's and women's divers will be competing in the Colonial Athletic Association Diving Championships Feb. 20 and Feb. 21 in Newark, Delaware. The CAA Swimming Championships will be held from Feb. 24 to the 27 in Richmond, Virginia.