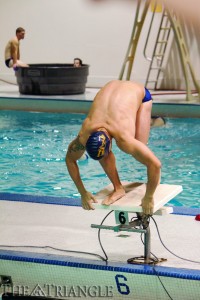 It was a bittersweet end to the day Jan. 25 at the Drexel Pool when the Dragons competed against Lehigh University's Mountain Hawks. The men surpassed the Hawks with a final score of 167-133 while the women fell short 182-112. The most impressive results of the day were the combined 18 first-place finishes, in addition to the men earning a fourth victory of the season, going undefeated in their home pool with an overall record of 4-0.
Even though the women fell to a 2-6 record this season, they still had a great amount of first-place finishes at the end of the day. Junior Lauren Faykes continued to show her dominance in the pool by winning all three of her individual events. Faykes earned her top times in the 200-yard butterfly (2:11.53), the 200-yard freestyle (1:56.33) and the 100-yard butterfly (59.02).
Along with Faykes, Katie Duggan, Jessica Gidzinski and senior Devina Tyagi topped the clock in the 200-yard medley relays. On the men's side, John Quagliariello, Chad Schmidt, Mike Krohn and Alex Bagshaw finished with a time of 1:34.69 and clinched first place.
The captain, Tyagi, excelled passed her competition on her senior day, earning first place in the 100-yard freestyle event with a time of 54.79. However, the freshmen class proved their dominance in the water just as greatly as the upperclassmen. For the men, Alex Galinskiy took first place in the 100- and 200-yard freestyle events and was shortly behind Krohn, who finished first in the 100-yard butterfly event. Krohn has displayed his consistency by also placing first in the 200-yard butterfly (1:53.98). Lastly, Andrew Reimon and Quagliariello took first-place finishes that surpassed the Hawks. Reimon was victorious in the 100- and 200-yard breaststroke events while Quagliariello won the 100 and 200-yard backstroke events.
On the opposite side of the pool, junior Stephen Cal was busy dominating on the diving boards. He finished out the day by sweeping both the three-meter event with a score of 287.70 and the one-meter event with a score of 304.42. With another consecutive win under his belt, this has been Cal's second weekend of diving phenomenally, aiding the Dragons in their final, stellar record.
For the next couple of weeks, the swimmers are solely preparing for the Colonial Athletic Association Championships in Fairfax, Va. However, Drexel diving will be on the road to Annapolis, Md., this weekend to compete against Navy and Columbia University. Cal's recent performances have been a solid indicator for the hopeful success Drexel diving sees in the future.