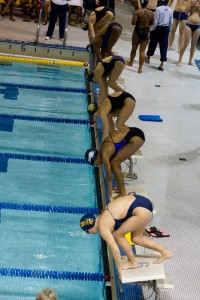 The Drexel men's and women's swim teams get ready for their season opener against Widener University Oct. 19 in Chester, Pa. The team hopes to earn an early win.
The Drexel swim team is about to make a splash at their first meet of the 2011-12 season. The Dragons are set to take on Widener University Oct. 19 at 6 p.m. in Chester, Pa.
Head men's and women's swimming coach Shawn Markey hopes his team will come out strong with an early win against Widener, just as they did in the 2010-11 season.
"An early win in the season is always a great motivator for the team," Markey said. "We look forward to local meets where the entire team and community can participate. We appreciate when our parents, friends and alumni come out to support us."
Last year the men's squad finished 5-8 overall and 0-1 in the Colonial Athletic Association, while the women finished 5-9 overall and 0-2 in CAA competition.
With a lot of fresh blood in the upcoming roster, Markey hopes the newest additions can bring a new wave of talent and enthusiasm to the team.
"A young group can drive the program," he said. "We have a lot of new swimmers that have really pushed the entire team in practice, which will definitely translate to the meets. We have a strong group of freshmen this year, and we are excited to see them develop over the next few years."
Along with the age shift on the team, the practices have also encountered a change of pace — and not just in the water.
"We are picking up the speed in practice," Markey said. "It is typical to do yardage-intensive practices during preseason. This year we dropped the intervals much sooner, and we are getting the team sprinting more often. We have also added a tough dry-land routine to the program, which consists of a variety of core workouts and full-body conditioning."
The cross training has proven to wean out the weak and allow the true talent on the team to shine. For instance, Markey said to keep an eye out for junior Lauren Faykes, who has come out strong early this season. She is already matching and surpassing her swim times of the 2010-11 preseason.
Markey also looks for seniors Devina Tyagi and Morgan Cichewicz to "make up a strong part of [the team's] sprint core for the women."
Of the underclassmen, sophomore Gizem Yali has already made herself known by her impressive backstroke times.
Markey says that on the men's side, "Freshman Alex Galinskiy has consistently led the team in practice. He trained hard this summer and has carried that momentum into the season this year."
Fellow freshman Andrew Reimon also had a tremendous summer of swimming and even qualified for the U.S. National meet this December in the 200-meter breaststroke.
Other improved swimmers on the men's side are sophomores Gregory Oprendek and Alex Bagshaw, who have both shown significant time cuts before the season has even started.
Even with a select group of standout swimmers, Markey doesn't want to take away from the fact that the rest of his squad is extremely talented as well.
"It is very difficult to single out one swimmer when they are all working very hard and swimming fast," Markey said. "The entire team is fired up and ready to kick off a great season. We are swimming faster this year at this point of the season than any of the previous five years, so it is very exciting."
Drexel's team has a lot of potential to be great this year, and that is not something that Markey takes lightly. In fact, this season he plans on adding to his list of 30 broken team records in the past two seasons.
"We have a tough group that is willing to tackle anything they are presented," Markey said. "In the next few weeks as meets start, we will see exactly how strong this team really is. This young team is ready to break out and show what we can do."
With a talented roster and a motivated coaching staff backing them up, there's no doubt that the men's and women's squads will smash through the Drexel record books once again.