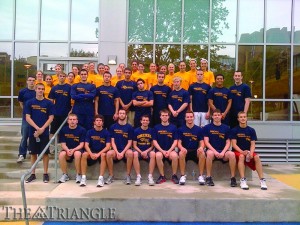 The Drexel swim team played a role in supporting the prevention of campus violence by participating in a 5K. The run was hosted by Drexel's Department of Public Safety
The topic of security on university campuses has been highlighted a great deal recently in the wake of several on-campus tragedies across the country in the last few years.
A little over a year ago, Sports Illustrated ran an article about an act of campus violence that shook up many students and schools.
The article was about a fourth-year student at the University of Virginia with the last name Love. She was a star lacrosse player whose athletic prowess was trumped only by her enormous heart. So it was bizarre to read that Yeardley Love was brutally murdered by her ex-boyfriend in her campus apartment one evening.
Perhaps this was not a crime of passion, and her attacker was just a disturbed man who needed help. Perhaps this could have been prevented.
This year, the Drexel University swim team played their part in supporting the prevention of these acts of violence. The team came out of the pool to run a 5k around the Drexel campus to support Security on Campus.
"It's a great cause to support," assistant swim coach Katie Koch said. "We practice at 6 a.m., and with our team walking from dorms or apartments, it is important for them to be safe."
Many of the stories we hear of campus violence, from fights to horrific school shootings, can be prevented. The incidents we read about are horrific because they highlight the worst of human beings and often offer little explanation. These stories always seem to shake the core of universities across the country, but most students are under the impression that these acts of violence will never happen on their campus.
Then one day, that is exactly what happened at Drexel.
The swim team ran this race with heavy hearts after Drexel lost one of its students, Evan Morris, July 29 in an act of violence in an apartment right off campus.
Security on Campus is a nonprofit organization started in 1987 by Connie and Howard Clery after their daughter, Jeanne, was raped and murdered in her dorm room at Lehigh University. Security on Campus' mission is to prevent crime on college campuses and to assist victims.
"It is important to raise awareness and to also not be naive," Koch said. "Our university is located in a city, and crime will occasionally happen, but it is the students' home for the next four or five years, and it needs to be safe for them to have a good experience."
The 5K was hosted by Drexel's Department of Public Safety and SOC in order to support SOC's victim advocacy program and to raise awareness and inform at the same time. The Dragon swimmers not only ran the race but had great success in doing so. Sophomore Lauren Faykes finished first of all the female competitors, while freshman Carina Watson placed third overall.
"We were proud of how our team came together and did an excellent job running the race," Koch said.
The swim team's season starts in just a few weeks with a date at Widener University, but before the first race begins, the swim team has already made the school very proud.
The team took to the pavement in order to help prevent these horrible crimes that have plagued many universities, including Drexel. The team took many small steps in a race that is one big step to an enormous goal.