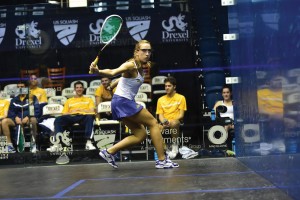 The Drexel University men's squash team went 2-0 on the weekend, while the women split their matches.
Playing at home, the No.9 ranked Drexel men's squash team crushed the No. 10 George Washington Colonials with an 8-1 victory Feb. 6 at the Kline & Specter Squash Center.
Sophomore Atticus Kelly earned his 10th victory of the season, defeating Moudy Abdel-Maksoud. Kelly earned his victory in four games, dropping the first. Kelly played from the first spot for the fourth consecutive match. He is 3-1 from this position.
Freshman Bransten Ming followed with a win in four games. This marked his 11th individual win of the season.
Omar El Atmas and Michael Thompson earned their 12th individual victories of the season. Both did so in sweeping fashion from the three and six spots.
In the No. 4 spot, Ibrahim Bakir delivered an impressive victory, sweeping his opponent Nicholas Valderrama. Bakir also earned his 10th win on the campaign. Bakir played an intense first game in the match, winning 16-14.
Junior Nat Fry pulled out a great performance for the Dragons. After trailing by two games, he battled back by winning three games straight against George Washington's Reid Breck.
The Drexel men traveled to Carlisle, Pennsylvania Feb. 8 to face the Dickinson Red Devils. The Dragons swept the Red Devils, giving Drexel four sweeps on the season.
Kelly earned his 11th individual win and his fourth straight. Ming earned his 12th match of the season and has only dropped one match in the No.2 position.
Bakir fought off Dickinson's Cory Litman in four games; while the rest of the ladder defeated their Red Devil opponents in three-game sweeps.
The No.9 Drexel women's squash team was defeated in a close loss by No. 14 George Washington 5-4 at home on Saturday.
In the first two spots, the Dragons suffered losses in three games.They began to bounce back, when Ryan Morgan, Fiona Power, and Elisa Money all impressively swept their Colonial opponents. Power reached double digit wins on the season with the victory.
Maria Diagama unfortunately dropped a tough five game battle to give George Washington a 4-3 lead overall.
Abigail Kaplan tied it up, defeating her opponent in four games in the seventh spot.
Unfortunately, the Dragons could not secure any more victories and fell by a close count.
The Drexel women's team dominated the Dickinson Red Devils in an 8-1 victory on Sunday.
The Dragons did not drop a single match to the Red Devils.
Morgan and Hayley Hughes earned their 10th wins of the season; while Power earned a team high 11 wins.
Drexel will complete its regular season schedule Feb. 13 when they welcome Columbia to the Kline & Specter Squash Center for Senior Day.