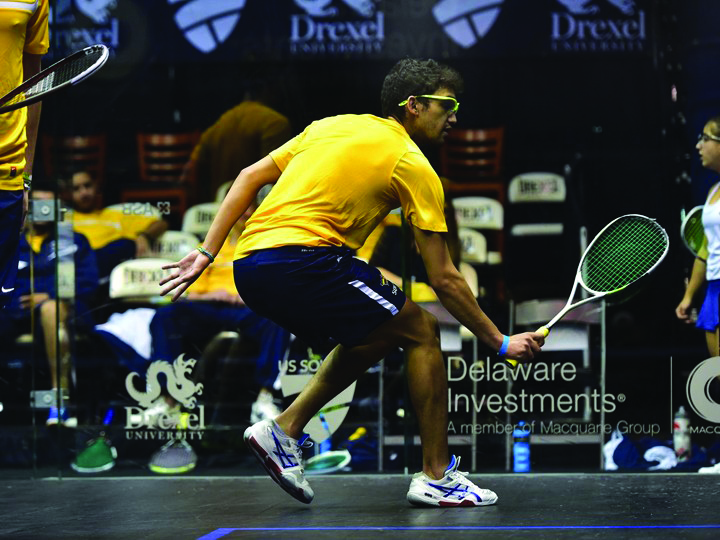 The Drexel University men's and women's squash teams struggled in their first matches of 2017, against Harvard University on Jan. 13.
The sixth-ranked Drexel men's squash team was defeated by the fourth-ranked Harvard Crimson at home. The Dragons' record is now 6-3 overall, while Harvard improved to 2-0.
The two wins for Drexel came from sophomore Omar El Atmas and Junior Luke Willemse.
Willemse defeated Dylan Murray in the sixth spot in a tough five-game battle, 11-7, 3-11, 11-9, 7-11, 11-8.
El Atmas defeated his Harvard opponent, Saadeldin Abouaish, at the No.1 spot in four games.
In the seventh spot, Drexel junior Joshua Hughes put up a great effort against Bryan Koh in five games. Hughes had a 2-1 lead through three games, but dropped the last two.
The men return to action on the road in Rochester to take on the University of Rochester on Jan. 20.
Dragons' head coach John White thinks that focus and mental toughness are important aspects of the road ahead.
"Rochester is another very tough team for the men. We have been working on the mental side of the game but also having the players go back and work on the basics. They are all playing well and need to realize that being in the top 8 is a different level of play than where they were last year. If they come to play and stay focused they are going to do very well."
They will then travel to Cornell University on Jan. 21, and to Hobart and William Smith Colleges Jan. 22.
On the women's side, the No. 14-ranked Dragons were swept by No. 1-ranked Harvard. Drexel's overall record fell to 2-6, while Harvard improved to 2-0. The Dragons were defeated in all spots in straight games.
Drexel's women's team will look to come off the loss strong in their upcoming matches. They will face No. 8 Cornell on the road.
"Cornell is always a very tough team that you can never underestimate. Having the players concentrate on their own game plan from the very first point and put the pressure on their opponents early on is the key for both teams. It is going to be a very exciting weekend for the Dragons," coach White said.