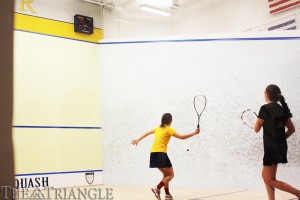 The Drexel men's and women's squash teams have been playing to perfection as of late. They are both on five-game winning streaks and with only a few weeks until the postseason, their timing could not be any better.
The Dragons are coming off a dominant performance over the Fords of Haverford College, with  neither team dropping a set on their way to impressive 9-0 victories.
The women's team was granted a pleasant surprise from some of the young talent on the team. Freshman Kristine Giltvedt is a rising star on the women's roster and she had the most dominant performance of the evening. Giltvedt was playing her usual role at No. 7 in the lineup, and she came away with a decisive victory for the team, winning her match 11-2, 11-4, 11-0.
Not far behind Giltvedt was another underclassman, sophomore Kaitlyn Money, who won her match in convincing fashion as she cruised to an 11-2, 11-0, 11-5 victory.
While the women's team was busy claiming another victory, the men's team pushed to keep their winning streak intact. In similar fashion, the men were also able to come away with a shutout performance as they rolled to a 9-0 victory.
The men's team was highlighted by yet another young, up-and-coming talent. Freshman August Crofton only gave up five points in his thrilling victory as he dominated his opponent, 11-2, 11-1, 11-2.
The rest of the men's team continued their strong play throughout the rest of the match as well. Junior Sebastian Dangond handled his opponent by a score of 11-4, 11-1, 11-0.
Freshmen Michael Thompson at No. 1 and Noel Solomon at No. 3 and sophomore Joey Gingold at No. 4 conceded only seven points apiece, downing their opponents with identical scores of 11-3, 11-3, 11-1.
The Dragons ended their regular season Feb. 2 when they faced George Washington University at the Kline & Specter Squash Center. The women's team was shut out by a score of 9-0, while the men's match was cancelled due to a scheduling conflict.
Next up for Drexel is the NCAA Team National Championships. The men's competition begins Feb. 14 in Cambridge, Mass., while the women's tournament begins Feb. 21 in Princeton, N.J.