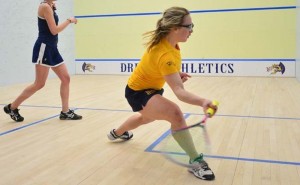 After a tough 2014 portion of their season, the Drexel men's and women's squash teams are hungry for a win in their upcoming match and first competition of the new year. The Dragons will be facing off against the Dartmouth College Big Green. The match is set for Friday, Jan. 9 at 5 p.m. at the Kline and Specter squash center here at Drexel University.
The Drexel men's team is ranked No. 13 after the completion of their previous match, while the women's team is ranked No. 14. Overall, the men have a combined record of 7-20 and a team record of 0-3. They enter the match against Dartmouth coming off a 6-3 loss to the Princeton University Tigers Dec. 3. The women enter the competition against the Big Green with an overall record of 4-23 and a team record of 0-3. The women are coming off a huge loss to the Princeton Tigers where they faced a complete sweep.
The Big Green men's squash team enters the match ranked at No. 8 with a combined record of 7-20 and a team record of 1-2. The Dartmouth men will enter the match against the Dragons coming off a 0-9 loss against Trinity College Dec. 7. The women's team is ranked at No. 10 with a 0-2 team record. The team is coming off losses to Harvard University and Trinity.
With both teams eager for a win and a positive start to the 2015 portion of their seasons, the competition should be steep and exciting when the Dragons take on the Big Green.