In the first-ever games for the Drexel squash varsity programs, the Drexel women's and men's squash teams earned a 1-1 split at Haverford College in their inaugural season openers Oct. 26 and 27, respectively. Out of the two teams, the men were the ones to collect the program's first-ever win with a 9-0 victory, while the women's team lost 6-3.
The women's match did not go so smoothly early on, as Haverford won the first three individual matches to take a 3-0 lead. Undeterred, Drexel pulled one back as freshman No. 2 Davila Thompson defeated Haverford No. 2 Kira Jones 14-12, 12-10, 12-10 to give Drexel not only their first win of the night, but their first individual win in program history.
Two more wins by sophomore No. 9 Atigah Shahrin and junior Anna Schmiedicke leveled the match at three wins apiece. Unfortunately, that would be the last bright spot for the women, as the trio of sophomore Caroline Nightgale, freshman Alex Love and junior Randee Johnson won three matches in quick succession to seal a 6-3 overall win for Haverford.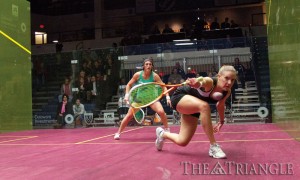 Despite the women's defeat, Drexel head coach John White was pleased with their efforts on the evening.
"They played very well in their first game of the season," White said. "The whole team from No. 1 to No. 10 was a big improvement."
The next night, though, the Drexel men's squash team defeated their counterparts from Haverford, and they did so in some style. The 9-0 overall win was made even more impressive considering that the team dropped only one game in the entire match, otherwise dominating the proceedings.
No. 1 sophomore Justin Singh got the ball rolling with an 11-2, 11-0, 11-3 win over Haverford senior No. 1 Alex Spiliotes. From there on out, the Dragons made easy work of Haverford, as it was not until the fourth individual match when sophomore No. 4 Ben Bevan dropped the only game a Drexel player would lose on the evening as he lost in the second set to junior Peter Boal 11-8.
Nevertheless, Bevan would go on to win the match 11-0, 8-11, 11-5, 11-3. Wins by freshmen No. 5 Harshil Dokania, No. 6 Vinayak Kalani, No. 7 Matt Schreffler, seniorNo. 8 Robert Steidle and junior No. 9 Nakul Jain rounded off a tremendous first victory.
With regard to the first two games, White is pleased about the overall efforts of both teams.
"Every single player on the men's and women's sides has improved their overall play," he said.
Nevertheless, he made sure to keep perspective on things, especially given the men's result.
"You don't want players to become complacent," he continued. "You don't want this win to go to their heads too much and for them to think that things are going to be clear sailing. It's only going to get harder."
Both the men's and women's teams will take part in a round-robin tournament at Navy Nov. 5. The men will take on Navy, Johns Hopkins and Fordham, while the women will play against Johns Hopkins and Virginia.