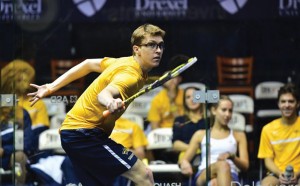 The Drexel University men's and women's squash teams faced off against the Dartmouth College Big Green Jan. 16 in Hanover, New Hampshire.
The Dragon's No. 9 men's team fell to the No. 5 Dartmouth men. The final score was 6-3 in favor of the Big Green.
At the top spot, Atticus Kelly suffered a tough loss, battling through five games to fall to his opponent, Alvin Heumann.
Omar El Atmas followed at the second spot and earned a win in sweeping fashion. His individual record is now 9-1 on the season.
Bransten Ming also defeated his Dartmouth opponent, doing in so in four games at the number three spot.
The third victory of the night for the Dragons was earned by Michael Thompson in the number five position. He swept his opponent, Nicholas Harrington.
Ibrahim Bakir, Luke Willemse, Noel Solomon, Nat Fry and Joey Gingold all could not secure wins for Drexel at the fourth, sixth, seventh, eighth, and ninth spots, respectively.
The No. 12 Drexel women were able to earn a 5-4 victory against the No. 9 Dartmouth women.
The Dragons topped their opponents at the top five spots which secured an overall victory for Drexel.
Hayley Hughes swept her opponent Jacqueline Barnes at the No. 1 spot, improving her individual record to 6-2.
In the second position, Elisa Money earned a victory in four games.
Ryan Morgan fought hard through five games at the No. 3 spot to bring in another victory for the Dragons.
Fiona Power played from the fourth spot and won in four games.
Mary Fung-A-Fat swept Zainab Molani in three games at the No. 5 position to bring Drexel to a win. With their victory over Dartmouth, the women's team holds a 6-2 season record.
The men and women will take the weekend off, as their matches have been cancelled due to the impending snow storm.