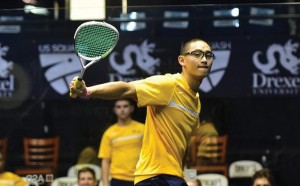 The Drexel men's and women's squash teams both opened the 2015-2016 season 2-0.
The Drexel men's squash team defeated the Franklin & Marshall College Diplomats and the University of Virginia Cavaliers at home in the 2015-2016 season opener on Saturday, Oct. 31.
The team swept the Virginia, winning 9-0.
Freshman Omar El Atmas, freshman Bransten Ming and sophomore Luke Willemse swept their opponents with impressive performances in the first, second and third spots, respectively.
Senior Ibrahim Bakir and junior Michael Thompson also won each of their matches in straight sets.
In addition, Atticus Kelly, Joey Gingold, Cillian Dunne and Nat Fry won their matches.
The Dragons also defeated Franklin and Marshall by a count of 8-1.
Playing from the number one spot, El Atmas defeated Diplomat Cole Osborne in four games to gain a victory for the Dragons.
Ming also won in four games over. Willemse and Dunne earned victories in their matches, battling through five games to secure wins. Bakir and Thompson both swept their opponents, Sean Kenny and Jackson McCord, respectively. Kelly and Gingold also helped lead the Dragons to victory. Dragon Noel Solomon dropped his match to Kareem Nabil Abdel Mawla in a tough five game match.
The women also defeated Franklin & Marshall and Virginia. The Dragons swept UVA 9-0.
Hayley Hughes and Elisa Money both swept their opponents in three games in the one and four spots, respectively. Hughes and Money both swept their Diplomat opponents.
Sophomore Ryan Morgan won in the second spot in, while Mary Fung-A-Fat secured a victory from the third position. Freshman Fiona Power also swept her opponent. Abigail Kaplan won her match in a five game battle against the Cavaliers. In the ninth spot, Apoorva Addepalli came back to win her match in five games, after losing her first two games.
The women also defeated the Diplomats, 5-4.
Morgan won in four games and Power fought through five games to gain a victory for Drexel. Fung-A-Fat, Kaplan, Maria Diagama, and Addepalli all dropped their matches to their Diplomat opponents.
The men and women will return to action when they welcome the Haverford College Black Squirrels to the Kline & Specter Squash Center on Nov. 20.