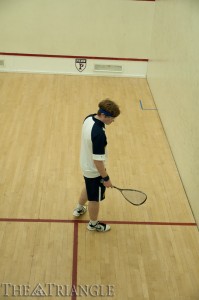 Fresh off a strong showing at the Navy Round Robin in Annapolis, Md., the No. 29 Drexel men's squash team returned to Philadelphia to face the No. 9 University of Pennsylvania Quakers. After wins against Georgetown Nov. 12 and Washington Nov. 13, Drexel was in for a tough matchup against Penn Nov. 30.
The match was held just a few blocks away from Drexel's campus at the Ringe Squash Courts, the home of the Quakers, who were fully prepared to take on the Dragons for their first match of the fall season. Meanwhile, Drexel was wrapping up its fall season and hoped to go into the break on a high note.
The matchup of the No. 1 players pinned Drexel's Justin Singh against Penn's Thomas Mattsson. Singh, a sophomore from Australia, was 7-1 through the Dragons' first eight matches of the season, but fell to Mattsson in three games: 5-11, 6-11, 7-11, for his second loss.
Mattsson, a senior captain from Philadelphia, who finished the 2010-11 season ranked No. 54 individually, saw a lot of potential in Singh.
"I had never seen him before and did not know much about him," Mattsson said. "Singh is a really strong player, and it was a tough three-game match."
The team faltered at the hands of the Quakers, losing all nine matches while winning just one game. The Dragons' No. 2 player, freshman Sebastian Dangond Gala, was the only Drexel player to stretch his match to four games. Gala lost 7-11, 9-11, 11-5, 4-11 to the Quakers' No. 2 player, senior captain Trevor McGuinness of Merion, Pa.
The men's team will be on a two-month break and will resume play in the winter season when they travel to Brunswick, Maine for the Maine Round Robin. The Dragons will begin against Bowdoin College Jan. 27 and then play three matches Jan. 28 against Colby College, the Massachusetts Institute of Technology and Bates College.
The women's team, which has been off since Nov. 12, will join the men's team in the Maine Round Robin. There, they will also face Bowdoin Jan. 27 and then Colby, Wellesley College and Tufts University Jan. 28. The Dragons will look to notch their first win of the season, having gone 0-4 thus far.