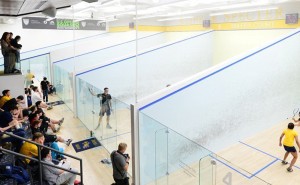 The Drexel University men's and women's squash teams both fell to the Franklin and Marshall Diplomats in their season opening matches on Wednesday night in Lancaster.
The No.12 ranked men's team lost 5-4 in the contest to the No.7 ranked Diplomats.
The Dragons got off to a strong start, winning four out of the first five matches. Atticus Kelly, Ibrahim Bakir, Michael Thompson, and Cillian Dunne all recorded wins in their matches. These were the first collegiate matches for Freshmen Kelly and Dunne.
Kelly faced off against Diplomat Cole Osborne to win in four games.
Thompson, Dunne, and Bakir all won in five games. Sophomore Thompson was able to secure the win after overcoming a two game setback against Franklin and Marshall's Pedro Veiga de Almeida. Dunne was able to record his first collegiate victory for the Dragons over Gavan Hitchenor, winning 3-2, while Bakir defeated Diplomat Dylan Cunningham.
Despite Drexel's strong opening and continued effort, the Diplomats won matches six through nine, winning the remainder of the games, to bounce back from a 4-1 deficit.
The Drexel men have never been victorious against the Franklin and Marshall men's team, but the Dragons are the first team to not fall to the Diplomats 9-0.
The No. 13 ranked Drexel women's team also could not reach victory and lost their season opener to Franklin and Marshall. The Dragons fell to the No. 17 ranked Diplomats 7-2, making Drexel's all time record against the Diplomats 0-3.
The two wins for Drexel came in Junior Kaitlyn Money and Freshman Abigail Kaplan's matches. Money defeated Diplomat Adreina Benedith in a three game sweep. In Kaplan's first collegiate match, she secured a 3-1 win over Diplomat Kate O'Brien.
Dragon Mary Fung-A-Fat faced off against Franklin and Marshall's Fiona Murphy. The Drexel Sophomore dropped the match in five games, falling 2-3.
The Diplomats secured their 7-2 victory, not dropping a game to win the other six matches.
The Drexel men and women return to Philadelphia to battle the No. 6/9 ranked Columbia University Lions on Saturday. The women will begin play at 12 p.m., followed by the men at 2 p.m.