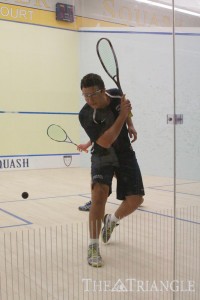 The regular season for Drexel Squash came to a close over the weekend as the men's and women's teams had their final matches before the postseason begins later this month. The 19th-ranked men's team took its record to 9-10 on the year with consecutive 9-0 wins against Colgate University and the University of Virginia Feb. 8 and 9, respectively, while the 21st-ranked women's team finished its regular season with a 7-9 record after beating Virginia 8-1 Feb. 9.
The final home game against Virginia was a perfect end to the regular season and a perfect sendoff for the four graduating seniors on Senior Day: Kevin Sacherman, Anna Schmiedicke, Paul Jamrogowicz and Atigah Shahrin. Those players won their individual matches to contribute to a brilliant performance by both sides.
The women's 8-1 win against Virginia came under now familiar circumstances, as they won seven out of their eight matches in straight sets. As mentioned previously, Schmiedicke and Shahrin won their final home matches at the No. 7 and No. 4 positions. Junior Davila Thompson and freshman Laura Rahauser won their individual matches in nearly identical fashion, as Thompson won at the No. 6 spot (11-2, 11-3, 11-1), while Rahauser won her match at the No. 3 spot (11-2, 11-2, 11-0). The win continued an impressive stretch for the Dragons in the winter term, as they now head into the Howe Cup as winners of five out of their last six matches and six out of their last eight since the winter portion of the season began.
The men's team had an equally easy time against Virginia, as the Cavaliers not only lost all of their matches in straight sets but also failed to win a single set in their 9-0 loss (in both matches, Drexel won an individual match by default due to injury). Junior Ben Bevan had perhaps the toughest victory of the day at the No. 4 spot. After winning the first set of his match 11-5, Bevan fought through two very tough sets against his Virginia counterpart to win the remaining two sets 12-10, 11-8.
Drexel now heads into the postseason, as the women's team plays Feb. 15-17 in the Howe Cup in New Haven, Conn., while the men start their postseason Feb. 22-24 with the College Squash Association Team Championships, also in New Haven.