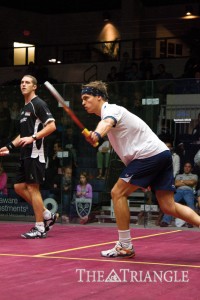 Two of the world's Top-25 male squash players compete during the 2011 Delaware Investments U.S. Squash Open, which was hosted by Drexel on it's specially-made courts in the John A. Daskalakis Athletic Center from Sept. 30-Oct. 6.
The men and women's squash teams competed in the first part of a two-weekend round robin this past weekend, Nov. 5 in Annapolis, Md. The Navy Round Robins will wrap up this weekend, Nov. 12-13, when both teams go back to Maryland, the men for three matches and the women for two.
In the first weekend of play, the men won one of three matches while the women were unable to pull out a victory in their two matches. There were, however, good things that came from last weekend's events when it was announced that Drexel's top seed, sophomore Justin Singh, won Harrow Sports College Squash Player of the Week. Singh won all three of his matches over the weekend, including a great matchup against Navy.
"Justin is just starting to put it all together," Head Coach John White said. "It is exciting to see how well he played because we knew he could do it and know that he is putting it together and starting to play his best squash."
Singh's play seemed to really excite the team as they were able to win more matches against Johns Hopkins, and then they won their final match against Fordham. The team is excited to get back down there because they know they can play better and get more wins this weekend.
"Right now it is just a mental game for most of our men," White said. "They all have a plan when they enter the court, but sometimes, for whatever reason, they stray from that plan, and it ends up hurting them."
The men are up against it because they are ranked lower than most of the teams they are competing against in Maryland. The team has won before as the underdog, and their coach thinks they can do it again. It is just all about mindset.
"This really becomes a mental game for the players, they need to have a self-belief," White explained. "They see the other team's ranking and put too much stock in it. Earlier this year we were able to beat Haverford, and I think that gave the team a boost, but they need to keep it in their mind that the can play with anyone."
The women had a little bit of a tougher weekend as they could not pull out a victory, but along with the men, they know they can win. It is just a matter of getting off to a better start.
"When you don't win any of the early games, it will really crush the team and the people who have to go out in the late games will have to play desperate," Ryan said. "We need our odd ranks (who play the first five games) to win so that there is less pressure on everyone else."
White believes that the team will turn it around this weekend and that they can come back to campus with a few more wins in their pockets.