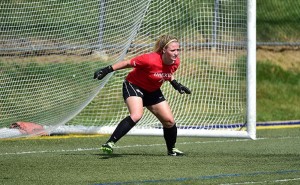 The Dragons returned home to Vidas Field this past weekend and hosted the Towson University Tigers and the James Madison University Dukes.
The Drexel women's soccer team defeated the Tigers 3-1 Oct. 2.
Towson got on the board first, scoring off a deflection from a free kick. The Dragons would answer with a goal of their own eight minutes later. Civanni Moss delivered a free kick into the box to sophomore Wilhelmina Hauch-Fausboll. Hauch-Fausboll headed the ball into the net for the score.
The score was tied at 1-1 going into halftime.
After the break, Hauch-Fausboll scored her second goal of the game. She received another pass from Moss and fired a shot past the Towson goalkeeper. The Dragons then scored again for a two goal advantage. Vanessa Kara dribbled passed the Tigers' keeper for her eighth goal of the season.
Overall, the Dragons had 17 shots on goal, while the Tigers had four. Senior Kelsie Fye recorded her first win of the year at netminder for Drexel.
The Tigers move to 6-4-2 overall, and 0-2 in conference matchups.
Prior to the start of the game, senior Jacki Sieder recieved the Laura Meikle Koch Coaches' Award and La Foundation Scholarship. The award is named in memory of a former Drexel student who lost her brave battle with cancer.
The Dragons fell to the Dukes on Sunday October fourth by a count of 1-0.
The teams played a very evenly matched game during the first half. Both squads got off four shots on goal, but left the score 0-0 through halftime.
James Madison scored the lone goal of the match just over 10 minutes into the second half. Ashley Herndon registered the point for the Dukes.
Late in the second half, Drexel had some opportunities to tie the game but came up short.
The Dragons outshot the Dukes 12-11. Fye and James Madison's keeper each had six saves.
The Dukes improve to 9-4, 3-0 in Colonial Athletic Association games, while Drexel moves to 7-6 overall and 1-3 in conference matchups.
The Dragons return to action Oct. 9 when they travel to Delaware to face the Bluehens.