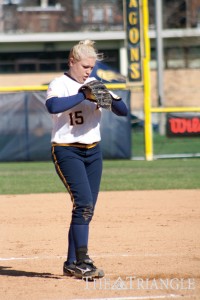 After loosing three straight games at home against Georgia State and extending their losing streak to seven, Drexel softball was in need of a turnaround.
That's exactly what they got April 12 against LaSalle (2-25, 0-9 Atlantic 10). Junior Hillary Allen (6-9) was lights out, striking out a carrier-high 10 batters to lead the Dragons to a 4-0 win over their cross-town rivals.
The Dragons (9-20, 1-8 Colonial Athletic Association) had previously hosted the Georgia State Panthers (24-17, 8-1 CAA) April 9, for a three-game series. The Panthers came into the weekend riding a five-game winning streak while Drexel was in the midst of a four-game losing streak.
"Sure, I think they were pressing a little bit, no one ever wants to lose, so when you start to lose a few in a row you start to try to do a little bit too much," head coach Kim Camara said. "I think we're stressing to them [to] keep it simple [and] trust in what they have."
Game 1 of the double header was close but Drexel lost 3-2. The second game wasn't as close, with the Dragons losing 7-3. The Panthers hit five homeruns, four of them coming in the seventh inning, to comfortably beat the Dragons. Sophomore Shyann Beach (0-2) was tagged for three earned runs through five innings. Freshman Shelby Taylor (6-9) made a relief appearance but to no avail; she gave up four earned runs in the Dragons' loss. In the sixth inning, Drexel showed some signs of life down 3-0. They loaded the bases and then used a squeeze bunt to bring in just one run that finally put the Dragons on the board — but the single run wasn't enough and the Panthers went on the score four more runs.
The series finale was more of the same, with the Dragons losing 13-1. Drexel's ace Allen gave up four earned and was pulled after recording only two outs in the first inning. Taylor and Beach made relief appearances and gave up six and one earned runs, respectively.
The weekend losses extended the Dragons losing streak to seven games but, as mentioned earlier, they were able to finally win one against LaSalle.
And they did it in a convincing fashion. Junior Paige Collings led the way for the Dragons by hitting a solo home run in the fourth inning to break the scoreless tie. The scoring continued in the sixth inning when Allen hit a single with bases loaded to extend the Dragons lead to two. Senior Kelly Downes added two more runs with a pinch hit double. Collings leads the team in home runs with seven and is only one home run away from tying her single-season record of eight.
"I don't think they were more motivated [against LaSalle] or lacking motivation [this season], I just think being a city school, we want to take pride in beating the city schools." Camara said. "Any time you beat a city school it brings confidence, and I think we definitely took that from yesterday. You know, we played good defense, our pitcher through the ball really well and hopefully all of that is going to roll into tomorrow when we play St. Joes."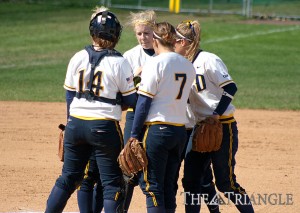 Drexel played another city rival in St. Joseph's (24-13, 7-3 A10) April 14 with the hopes of keeping their winning streak alive.
Unfortunately they couldn't come through, falling to the Hawks 9-3. Beach took the loss for the Dragons, lowering her record to 0-3 on the season.
The Hawks started the scoring early with four runs in the first inning. Sophomore Amanda Bachmann couldn't make the diving play at second base, which resulted in two scored runs for St. Joe's. Two batters later Rochelle Christman hit a two-run home run that bounced off the top of the fence to extend their lead. In the bottom half of the second inning, sophomore Jenn Reading single-handedly scored Drexel's first run of the game — she drew a walk, advanced on a pass ball, stole third base and finally scored on a wild pitch.
The Dragons seemed threatening in the bottom of the third inning. With freshman Comfort Ahonkhai on third base and Drexel's leading run producer Collings at the plate, it looked like the Dragons would surly score. But the Hawks pitcher got the best of Collings after a five-pitch battle. St. Josephs scored in the fourth inning to widen the margin four runs.
More faulty fielding by the Dragons helped the Hawks in the sixth inning, extending their lead to 8-1.
Drexel rallied late but to no avail when senior Rachael Campbell drew the lead off walk and took second and third base on a pair of wild pitches. Collings drew a walk and Reading bounced a ball to first base to bring Campbell home. Freshman Maddison Timoteo hit an RBI ground out to second base to make the score 8-3.
The Dragons couldn't capitalize on the strong win against LaSalle to start a small streak going into the weekend.
The Dragons will travel to Wilmington, N.C. to face UNC Wilmington (11-31, 3-6 CAA) who is also having a tough year but will no doubt put up a good fight.
"When we go down and play UNCW, its always a good fight," Camara said. "They're a good team, everyone in our conference is a good team, and anybody can beat anybody on any given day so I expect to go down there and play well, I expect to go down there and do our best and you know, wanting to come back with some wins of course.
"They're going to want wins from us as well so it's going to be a pretty hard fight," she continued.
After returning from North Carolina, the Dragons look to play neighboring Penn at home.