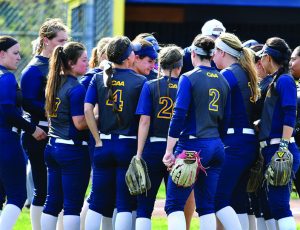 The fourth-seeded Drexel University women's lacrosse team fell to number one seed James Madison University Dukes on May 5. The team was defeated at home 12-3 in the first round of the CAA Championships.
Coach Hannah Rudloff discussed the team's performance during the contest. "We had a rough time in the weather against JMU to start us off, and by the time we adjusted at the end of the first half we were able to chip in a nice goal to get it to 3-1.  We just had a bad stretch at the beginning of the second half, and we struggled with our clears all day. I thought Carlee Ries had a great day in goal for us, and it was an awesome way for her to end the season," Rudloff said.
In the first half, the Dukes got on the board first and followed with another two goals, making the score 3-0. Drexel responded with a goal of their own with less than two minutes remaining in the first half. Devin Nihill scored the first goal of the contest for the Dragons off an assist from Emily Duffey.
James Madison played impressively in the second half as the Dukes scored nine goals to Drexel's two. In the first three minutes of the second half, the Dukes scored three unanswered goals to increase their lead to five goals.
Shortly after, Nihill scored her second goal of the game, once again assisted by Duffey. Unfortunately, the Dukes would go on a 6-0 run to make the score 12-2. With time winding down in regulation, Nihill scored her team's final goal, completing a hat trick.
The loss brought the Dragons' season to close.
Coach Rudloff reflected on the team's season and their achievements.
"Making the top 4 in the CAA, and making the CAA tournament that we were already set to host, was a huge feat.  We were picked in the preseason poll to finish last, but that never deterred our players, and I am so proud of them for the heart they showed to battle against the great teams in our conference and accomplish our goals,"she said. "And to clinch the bid by beating Hofstra, a team we hadn't beaten in our players' lifetimes, was absolutely amazing."
While looking towards the offseason and preparing for next season Coach Rudloff continued:ed "I think with the possession clock coming in next year, that's going to change a lot about the way we do things schematically.  We will have to play faster on attack and slow teams down more on defense, and that will require us to work on certain skills in the offseason."
The Dragons will get back to work next spring.