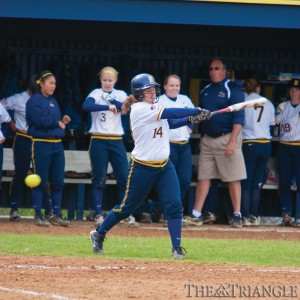 The Drexel softball team didn't exactly start their season off on the right foot. The Dragons dropped the first four games of their young campaign at the Pirate Classic in Greenville, N.C. A common remedy for a losing streak is to jump right back into action and play through the struggles. This was not the case for these Dragons, as head coach Kim Camara mentioned last week.
"It is good to have this layoff right now," Camara said. "We had an opportunity to go out and evaluate ourselves this past weekend. Now we can take the 10 off days and work on the skills we need to work on and be well rested going into next weekend."
Camara's theory may hold true, as it is still very early in the season. The chance to play in real games and take a step back to evaluate the team's issues will be invaluable in the coming weeks.
Drexel will travel to Greensboro, N.C. to participate in the Spartan Classic. The Dragons will play a doubleheader in the first day of competition against Rider University and the University of Utah. In the second day of action, Drexel will face the hosting University of North Carolina at Greensboro and a possible championship game if all goes well.
During the extended break, Camara made sure the team didn't lose its edge with practices emphasizing swing mechanics and small-ball.
"We worked a lot on staying sharp defensively and making a few tweaks to our swings offensively," Camara said. "After our last weekend out, we needed to really focus on getting our offense where we want it to be."
The Dragons will really need to get things going offensively at the Spartan Classic. They scored a total of 10 runs in the Pirate Classic, while their opponents scored a total of 32 runs. Being able to keep up with the competition and possibly supply run support for their pitching staff will be something to watch in these next few games.
"Each team we play this weekend is very different," Camara said. "We need to execute our offensive and defensive game plans and really focus on the small stuff like bunting and baserunning. Those two things can make a huge difference in our game."
Upcoming doubleheaders may prove to be a source of distress for the Dragons. At the Pirate Classic, all of their games were doubleheaders, and that didn't fall in Drexel's favor — possibly sparking worry for the Spartan Classic. When asked about the team's doubleheader struggles, Camara emphasized the importance of game-to-game focus.
"We play doubleheaders all the time. We are used to them," Camara said. "Getting refocused from game to game is something we talk about in practice often."
Offensive woes and doubleheaders aside, the Dragons could make a run in the Spartan Classic. The prepared and well-rested team will try to put together some slump breakers and get back on track with its season.