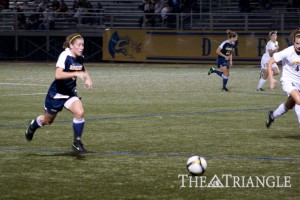 With a traditionally frantic 10-week schedule soon to start, composure under pressure, robust work ethic and the ability to mange one's time will be but a handful of the traits that a successful student will require to make their way through the term.

Fortunately, one will not have to look too far to find a group of students who embody these attributes, as a short ride on the Drexel shuttle will bring you to Drexel's Vidas Athletic Complex.

Located at 42nd and Powelton streets, the multi-field complex serves as the home to both the men's and women's soccer programs. Of late, that is where the similarities end.

Heading into their ninth competitive season in the Colonial Athletic Association, women's head coach Ray Goon and his assistant Don Overmier preside over a group that has demonstrated commendable character since they reported for the start of preseason training Aug. 5.

A credible one-goal loss to a Rutgers side that perennially sits atop the Big East rankings was soon followed by another away trip, this time to cross town rivals La Salle University at the McCarthy Stadium Aug. 26.

In a game that went all the way through to double-overtime, Drexel showed grit and determination by shackling a rampant La Salle forward line that, at times throughout the match, dictated the game completely. A scoreless draw was the result, and the Dragons would have to return to the Vidas Complex for their home opener against Delaware State in search of their first win of the season.

Against a Delaware State side that was winless going into this game, Drexel finally found their stride as goals by forwards senior Jenna Lindsay and junior Juliana Speroni gave the home side a 2-0 win over the visiting Hornets.

Speaking to DrexelDragons.com after the match, Goon commended his defense.

"I think our defense has done pretty well, particularly the goalkeepers," he said. "We haven't given up a goal in the last couple of matches so they are very solid right now. It is a new core back there and we are very excited about how they are playing right now."

Buoyed by the return to fitness of team captain Katie Duncan and the confidence of a first win under its belt, Drexel well and truly took the handbrake off and decimated a visiting Temple side in their second home game Sept. 2.

Four different goal scorers made their mark on the stat sheet. Freshmen Megan Hammaker and Alyssa Findlay recorded their first goals in the blue and gold, with the other two goals scored by forwards junior Alex Vazquez and Lindsay.

A compelling afternoon was made more so by the fact that Lindsay's goal took her Drexel career tally to 21 overall, making her Drexel's new career goals record holder as she surpassed Aleka Yiantsas' tally of 20. It was a record equaling day for another of Drexel's players as sophomore midfielder Christine Stevenson's three assists in the game equaled a program-record set by Cory Snyder against Towson in 2008.

Goon again captured the mood of the game with his words to DrexelDragons.com after the game.

"Unlike our previous matches we were able to finish a number of our opportunities," he said. "In our previous matches we were getting those opportunities, we just were not finishing them. Today we kind of got that monkey off our back early and were able to roll with that."

Drexel's newfound confidence in front of the goal was soon to be tested as they travelled to face the nationally ranked University of Virginia Sept. 9 in Charlottesville. It proved a bridge too far as Drexel was limited to zero shots on goal by a dominant Cavaliers side that racked up four goals over the course of the match and consigned Drexel to their second loss of the season.

The match did provide a valuable learning experience for Goon's Dragons as in their next game against city rivals St Joseph's, Drexel's defense was back at its finest. Leading by an early Lindsay goal, Drexel looked to be home and dry before a rash tackle in the 18-yard area gifted the Hawks a penalty that was duly converted by senior forward Maggie Lupinski.

1-1 and the game would go to the end double overtime without either side adding to their goal tally. The draw took Drexel's overall record to 2-2-2 and puts them comfortably in fifth place in the latest CAA standings. It also sees Drexel remain unbeaten at home this season and reinforces the home side strength that Drexel will look to rely on as they build toward the program's first ever post season appearance.

Drexel's frantic schedule next sees the Dragons in action on the road Sept. 16 as they take on Wagner University before another road game against Rider University Sept. 18.

The weekend also sees Drexel's men's program take on the New Jersey Institute of Technology in Newark, N.J., as they look to pick up their first win of the fall season.

Marshaled by the affable Doug Hess and his assistants Bryan Green and Cory Robertson, Drexel's men have endured a rather tempestuous start to the season.

With wins recorded in scrimmages against Fairleigh Dickinson (3-1) and St Joseph's (4-0), Drexel began their 2011 schedule on the road against city rival Villanova University Aug. 31 looking to start Hess's second year in charge of the Dragons with a bang.

What followed was a predictably physical affair as the two rivals faced off on Villanova's grass field. With Drexel having lost influential forward Andrew Goldberg to a season-ending ACL injury in the scrimmage against St Joseph's, the Dragons were looking to share the goal-scoring burden across the team.

Against Villanova this manifested itself in 11 shots at goal with only two requiring the intervention of goalkeeper John Fogarty. Drexel instead spent much of the match on the defensive as Villanova turned the screw following their 30th minute go-ahead goal scored by forward Aaron Dennis; the game would eventually end in a disappointing one-goal loss for Drexel.

Drexel's next match took them to the road again, the destination this time being the "Gateway to the West" and the opponents nationally ranked Creighton University. Drexel was again unable to register a goal as the Blue Jays swept to a fairly comfortable 3-0 win in front of a partisan crowd of 5,425 people. The goals came in either side of the half and were scored by Andrew Ribeiro, Greg Jordan and Bruno Castero, respectively. The match also saw Drexel's Nathan Page pick up a knee ligament strain that would rule him out for the next few games.

The next opponent for the Dragons were Big East heavyweight Rutgers away in New Jersey. The match saw Drexel record their first goal of the season as freshman John Grosh cashed in with his first goal for Drexel. Unfortunately for Drexel, his goal was sandwiched on both sides by strikes from the Scarlet Knights' Juan Pablo Correa, Kene Eze and Nate Bourdeau. Thus it would prove to be scant consolation for the visiting Dragons who had further cause for ire when junior forward Malcolm LeBourne was red carded for a foul tackle.

For the Sept. 14 night game, a home opener for Drexel, the Dragons took on Lafayette College, who came into the game boasting a 3-1-1 record that included two consecutive shutouts against Mount St. Mary's and La Salle, respectively. For Drexel, the familiar confines of the Vidas complex have often provided a stronghold against visiting teams (Drexel was 5-3-0 at home last season and 2-6-0 on the road).

Unfortunately, the visiting Leopards did not read the script.

From the opening whistle, Drexel looked ill at ease in front of a large home crowd that had gathered to watch them play. Unable to get into their quick passing rhythm and struggling to impose any pressure on the ball when not in possession, Drexel allowed Lafayette for the most part to dictate matters in the first half. The halftime whistle brought a tepid affair to an end and left many in the crowd wondering whether Drexel would be able to rebound in the second half.

The second half started much brighter for the Dragons as they seemingly found the bite and pace that had been missing for much of the first half. Spurred on by the injection of pace from wingers Eric Lynch, Phillip Haggerty and Matheus Goncalves, and prompted forward by the darting flame haired presence of sophomore forward Manuel Cazares, Hess' Dragons started to impose themselves on the game.

Their inability to get a goal out of their prolonged periods of possession would eventually come back to haunt Drexel as Lafayette still looked dangerous on the counterattack. The warning for Drexel came with 14 minutes left in the match as an innocuous cross into the Drexel 18-yard box caused pandemonium and resulted in a shot on goal that was somehow cleared off the line by junior defender Ben Miller.

This warning went unheeded as Drexel continued their fruitless assault of the Lafayette goal. It would come back to haunt them when, with less than 10 minutes to go, Lafayette got their goal.

In a moment reminiscent of Robert Green's howler for England at the last FIFA World cup, Drexel goalkeeper Pentti Pussinen allowed a shot from Alec Golini to slip past him. Much to the chagrin of the home support, it later transpired that Lafayette forward Ryan Dodds, who was in a clear offside position, had distracted the Pussinen at the vital moment when the shot had been taken. The referee allowed the goal to stand despite animated protestations from the Drexel players, bench and supporters.

It would be the last meaningful action of a game that saw Lafayette come away with a single goal win. The result left a bitter taste in many a Drexel-affiliated mouth and was put into context by Hess after the game.

"It is not how you want to start out, 0-4, but that is where we are," he said. "So we have to get over that and keep going; it is a long season. Our biggest thing is to keep our chest up, keep our head up and keep moving forward. We took a step forward tonight in getting better.

"It is just one of those things where we have played 360 minutes and only scored 1 goal. Now, we have played 360 minutes and had chances to score other goals, we are just not seeing anyone finish a play."

Hess is now looking forward to Drexel's next game against NJIT.

"The first thing is to find a way to grind out a game and get a result," he said. "I just think that it is one of those things that is going to be a watershed effect. Once you crack that first one, it gets the monkey off your back and you go from there."

And it is this ability to find a way to win that both the men's and women's programs will have to search for and then continuously exhibit over the course of the season, should they wish to accomplish their respective goals for the season.

Based on the showing of support at games so far, there is a definite belief from the Drexel community that they have what it takes to do so.

Hess fittingly added a message that resonates with all students — particularly in a week when Drexel's student body returns for the fall term.

"It is not how you start something that counts, it is how you finish."

Welcome to Dragon country!