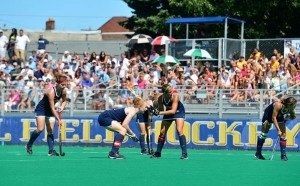 Even though the Drexel University field hockey team started off with a goal less than five minutes into the game, their strong leading effort was not enough to get them a win Wednesday, Oct. 21 versus University City rival, the University of Pennsylvania.
Freshman Amy Ferguson was the Dragon responsible for the first and sole goal for Drexel—which happened to be the first goal of her collegiate career. The assist came from senior Lauren Hibshman.
Following Ferguson's goal, neither team scored for the next 34 minutes of play, leaving the Dragons with an advantage heading into halftime.
It did not take too long into the second half for the Quakers to get on the board and tie up the score. Penn sophomore Alexa Hoover scored three minutes into the second half, and two minutes later the Quakers notched another goal, taking the advantage over Drexel.
As the game progressed the Quakers fought back, looking stronger and stronger. A little more than halfway through the second period, Hoover scored again, leaving the score 3-1. Soon after, freshman goalkeeper Erin Gilchrist took a seat, and was relieved by junior Ainslie Rhoads. Gilchrist, who started, took the loss for Drexel.
Just three minutes into Rhoads' stint in goal, Hoover scored again for her third goal of the evening, putting the Quakers up 4-1 and leaving the outlook for Drexel pretty dismal.
To cap off the game, Penn scored once more on a goal from freshman Selena Garzio.
The two Quaker scorers could not be stopped: Hoover took three goals while Garzio cleaned up with the other two, leaving Drexel with a 5-1 loss.
In spite of the loss, notable performances came from freshman Megan Weist and junior Jessica McCarthy. Weist took four shots and a shot on goal, while McCarthy contributed with three shots and two shots on goal. Gilchrist had one save.
The Drexel defense certainly needs some work. While they hung tight in the first half, not allowing any score, they could not keep it together for the last thirty minutes. It's hard to win when you give up five goals in just one half. There's also something to be said about the offense, given that Drexel's only goal came five minutes into the match-up, leaving them scoreless in the last 65 minutes.
The loss to Penn put the Dragons at 6-9 overall. For Penn, the win meant improving to an impressive record of 11-2 on the season.
Despite Drexel's loss-riddled record, in Colonial Athletic Association play they are 2-1.
Field hockey's next contest will take place Oct. 25 at 1 p.m. when the Dragons travel to Hempstead, New York to take on the Hofstra pride. Hofstra will likely be a tough match for Drexel, as the Pride have been hot so far this season. Coming into Sunday's game, the Pride are 11-4 (and 1-1 in CAA play).