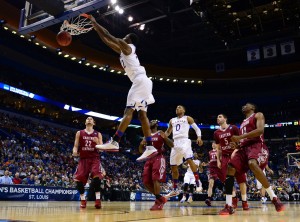 (Editor's note: This is the first in a series of NBA Draft Previews, taking a look at a number of prospective draft picks leading up to the NBA Draft June 26.)
Somewhere, Doug Collins weeps.
Collins — the former Philadelphia 76ers head coach, NBA Countdown commentator and lover of all shots midrange — would be disgusted by the direction that the Sixers are headed. And that's a good thing.
Under Collins in 2012, the team employed an appalling offensive system. The Sixers focused on midrange jump shots and avoided the foul line like it was a post-2009 Adam Sandler movie en route to an NBA record for least free throws attempted in a season.
When Collins resigned before last year, the Sixers organization was in a precarious position. The Andrew Bynum trade had blown up in the team's face, and it was stuck with a middling roster that virtually guaranteed mediocrity for years to come.
General Manager Sam Hinkie had something to say about that.
In months, Hinkie and the rest of the organization accrued pieces to alter the future of the organization drastically. The Sixers hired former San Antonio Spurs assistant coach Brett Brown, a forward-thinking basketball mind with a strong player development background, as head coach. They jettisoned all-star point guard Jrue Holiday and in the process picked up first-round draft pick Nerlens Noel and the New Orleans Pelicans' 2014 first-round pick.
Other than the specific assets, the Sixers received something arguably more important: a direction. They proceeded to "tank" away the 2013-14 season en route to the third and 10th picks in the 2014 NBA Draft while also developing their young talent, like would-be NBA Rookie of the Year Michael Carter-Williams.
In a little under a month, Hinkie will have the choice of any number of incredibly talented athletes with the third pick in the draft. The two talents that have scouts and fans alike waiting on pins and needles are Kansas University's Andrew Wiggins and Duke University's Jabari Parker.
Andrew Wiggins doesn't look like someone who could strike fear into opponents. He's Canadian. He's quiet, goofy and has a friendly smile.
When asked about teams tanking for the chance to get him next year, he responded, "That's risking a lot for one player!"
He's humble and an unassuming presence in interviews. He's perfect for the Sixers. More than anything, Wiggins is a freak of nature. He can jump out of the building; he's incredibly fast and agile and has great body control.
Entering his freshman year at Kansas, he was touted as the best high school recruit since LeBron James. He hasn't quite lived up to those expectations, mostly because of the sheer impossibility of an 18-year-old measuring up to the greatest active basketball player on Earth.
But he has shown that he's able to defend as well as almost any other player in the country. He's put on an athletic clinic, making incredible plays on a game-to-game basis the likes of which few players on the planet could make.
That's not to say he's one of the best players on the planet; he's not. He is, however, one of the most incredibly gifted athletes in recent history.
His speed and athleticism make him an elite defender, which is his greatest strength at this point in his career. With Kansas, he was forced to cover the best nonpost player on the opposing team and succeeded in this difficult role. He's a great shot blocker and shutdown perimeter defender due to his long arms and lateral quickness.
Offensively, Wiggins would best be described as unrefined. He's got a quick first step and moves as well as any other college prospect, but his dribbling leaves a lot to be desired.
He doesn't have nearly enough offensive moves and relies on his quickness much more than actual offensive moves to create space. That being said, he's still very good at creating space for himself in half-court offensive sets and is a dangerous offensive player, shooting 45 percent from the floor in his one season at Kansas.
Wiggins also averaged 7.1 rebounds per game during his freshman year, and his athleticism is a unique tool on the boards. It's nearly impossible to box him out due to his incredible jumping ability and body control pursuing the ball.
Most importantly, Wiggins is an elite offensive player in transition. His speed, agility and open-court passing ability make him a menace on the fast break. This is particularly important for the Sixers, as their offensive game depends on a fast-paced, transition-heavy mindset, where Wiggins will excel running the court alongside Carter-Williams and Noel.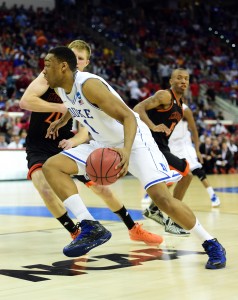 Parker, on the other hand, is almost the exact opposite. His offensive game is refined and professionally impressive, while his defense leaves a lot to be desired.
On the defensive end, Parker is a liability. Throughout his freshman year at Duke, coach Mike Krzyzewski would pull Parker on the defensive end during close games because his defense couldn't stand up to the moment.
He's not actually a horrible defender in terms of fundamentals, but he simply lacks the lateral quickness necessary to keep up with perimeter players, making defense much more difficult for him. However, his big body, standing 6 feet, 8 inches and weighing 235 pounds, allows him to play multiple positions on the next level if he can improve his defensive play.
Offensively, he's a monster. He's great at dribbling, can run the fast break and has an incredible spot-up jump shot. He has an arsenal of moves to create space for himself. His size, speed and ability to create space for himself draw comparisons to Paul Pierce, which is good company to hold.
He would fit in very well on the Sixers as a shooting option on a team that desperately needs one, while still very talented on the fast break.
In the draft, Parker presents a much more NBA-ready player than Wiggins. He requires less work on his game to improve and could join a team and make an impact right away.
In terms of limitless potential, however, the Sixers would be hard pressed not to choose Wiggins. He may be more of a project, but he has more of an upside and the dreams of his athleticism next to a healthy Noel and Carter-Williams is enough to keep fans up at night out of pure excitement.
Mark your calendars: the NBA draft is in 27 days, and we can hardly stand the wait.