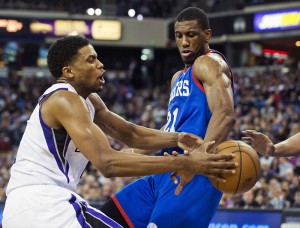 Over the holidays, the Philadelphia 76ers have plummeted in the "tanking rankings." With a four-game winning streak to end 2013 and begin 2014, the Sixers have officially knocked themselves out of the bottom five of the league. These victories weren't incredibly startling, with the exception of defeating an offensive juggernaut — the Portland Trail Blazers — on their home court and holding them under 100 points in a 101-99 win Jan. 4.
The last time they played the Blazers, they lost 139-105 at the Wells Fargo Center, so the turnaround was startling. While the Blazers are a great team, the Sixers' victory was less impressive than it would seem. The Blazers managed to shoot 36.4 percent from the field and only went 3-22 on three-point shots. Clearly, this isn't due to the Sixers' league-worst defense but was more of an off shooting night. This victory, combined with the Philadelphia Eagles' crushing last-second playoff loss to the New Orleans Saints, had me fighting the urge to undergo "Eternal Sunshine of the Spotless Mind"-esque memory removal surgery to forget the trauma that Philadelphia sports caused me.
Now the real problem facing the team is that they're simply too good when everyone is healthy. With Thaddeus Young playing like a man possessed, I don't see how the tank for a high draft pick can possibly continue to be successful. Young received Eastern Conference Player of the Week honors for games played Dec. 30 through Jan. 5. During this time, his stat line was borderline incredible. He averaged 25 points on near 57 percent shooting, 7.7 rebounds and 3.67 steals over the week and caused me to root against him for the first time in his seven-year career with the Sixers. Simply, Young is singlehandedly destroying the tank, and general manager Sam Hinkie needs to find a suitable home for him where his talents will mean something for a contender. Any trade involving Young would require significant returns from another team, possibly including a first-round draft pick in next year's draft.
Similarly, the Sixers are becoming too good with Michael Carter-Williams on the floor. They are close to a .500 record, 11-13, with Carter-Williams playing point guard, and they have 12 wins overall. Carter-Williams is necessary for the Sixers to win games, but I think this statistic has stronger implications for his backup, Tony Wroten, than for his own play. Wroten is incredibly entertaining, but he's also horribly reckless and sometimes detrimental to the team. In other words, he's perfect to lead this team. Now to legitimize my passion for Carter-Williams: He leads all rookies in points, rebounds, steals and assists per game and is clearly the favorite to be crowned 2013-14 NBA Rookie of the Year, barring some terrible accident.
Even with the stellar play of Carter-Williams and Young and the consistently solid play of Spencer Hawes, the Sixers defense has been awful. I mean, historically bad. This is easily the worst defense I've ever watched, and I don't remember any other team that is in jeopardy of allowing 100 points to an opposing team by the end of the third quarter on any given night. They allow a league-worst 111.1 points per game and constantly look lost on rotations, resulting in tons of open shots.
Over the holidays, the Sixers have been fairly modest in roster moves, but they did release Daniel Orton, who I thought played fairly decently in his limited role. The Sixers were a full five points better in points allowed per 100 possessions with him on the court, at 101, than without him, at 106.4. Trade rumors have been swirling, but nothing concrete has emerged. Earlier this week, the Phoenix Suns were reportedly interested in Young. Phoenix has four first-round draft picks for next year's draft, and the team has already said that it would be willing to trade some of those picks for an impact player this year. Moving Young for one or more draft picks would be huge because it would help the Sixers tank harder and also give them a probable third first-round draft pick in addition to their own and the one that the New Orleans Pelicans gave them in the Jrue Holiday trade. Also, the Sixers have tons of cap room, so they can accept a bad contract to facilitate a possible trade.
On Jan. 7, the Sixers traveled to Cleveland to play the Cavaliers and once again collapsed defensively. They lost 111-93 in a game that was much more one-sided than the score would indicate. They allowed C.J. Miles to make 10 three-point shots on 71 percent shooting from three-point land — a Cavaliers franchise record — and score 34 points. Carter-Williams scored 33 points on 52 percent shooting, and Young was somehow held scoreless in 21 minutes. This game was gigantic for the tank. With two straight losses following the four-game win streak, the Sixers are now in possession of the sixth-worst record in the league and are 1.5 games away from the second-worst record. Besides Miles and his ridiculous shooting exposition, this game was a typical Sixers loss this season: incomprehensibly bad defense, mistake-filled offense and horrible defensive rebounding.
The Sixers are now 12-23 and play the Detroit Pistons Jan. 10. Hopefully the team can continue to manage a balance between losing and entertainment that facilitates growth for years to come.