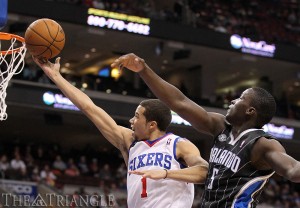 On Nov. 27, the Philadelphia 76ers lost 105-94 to the Orlando Magic in a classic "someone HAS to win" game between two horrible teams.
Spencer Hawes missed this game because of left-knee soreness, and as it turns out, Metropolis without Superman is not a fun place to be. The Sixers shot 7-22 from downtown in the game, and that's with Thaddeus Young (a 33.7-percent career three-point shooter) going 2-3. The Sixers without Hawes are like frozen pizza without pepperoni — an extraordinarily mediocre experience that could easily be improved with a simple addition. With that being said, there's really no point in Hawes risking further injury to play in a meaningless game where a win is unfavorable, because the Magic, like the Sixers, are competing for positioning in next year's draft.
Nikola "The Ghost of Andrew Bynum Trade Past" Vucevic (he was basically a throw-in player to sweeten the deal) followed the path set by most centers facing the Sixers and caused fits all over the court. He finished the game with 21 points, 16 rebounds, five blocks and thousands of crying Sixers fans distraught at the thought of what could have been. The Sixers could desperately use a rim-protecting big man to stop the onslaught they've faced from opposing centers — perhaps one with a flat top whose name rhymes with Perlens Poel?
On Nov. 29, the Sixers lost 121-105 to the New Orleans Pelicans, who had demolished them earlier in the year by 37 points.
As with so many of these games, the disappointment of the game was the defense, which allowed 121 points to a team that is below .500.
Anthony Davis and his unibrowed reign of terror over the Sixers are enough to haunt fans' nightmares and keep them up at night. Davis finished the game with 22 points, 10 rebounds and four blocks, and those stats don't even appropriately acknowledge the impact he had on the game, as his mere presence influenced the way the Sixers offense could flow.
If someone ever asks me, "Can you explain the Sixers' season in a single offensive possession?" I now know exactly what play to point them to. In the fourth quarter of the game, James Anderson took a three-point shot. It seemed ordinary at the time, but it would turn out to be a feat of both human determination and stupidity. On that one possession, Anderson took three three-pointers from the same spot — following two offensive rebounds by Young — and missed all three of them. That's about as "Sixers" as it gets, folks.
On the bright side, Evan Turner and Tony Wroten both had great games. Turner had one of those nights where he inexplicably can't miss jump shots, resulting in 22 points on 15 shots and a 100-percent mark behind the three-point line. Wroten was simply unstoppable, slashing through the paint as though no one was there to contest him. The point guard finished the game 9-13 in a game where he needed to step up because Michael Carter-Williams was struggling.
A minor note here: The Sixers shot a dreadful 42.9 percent from the free-throw line in the game. The league AVERAGE is around 75 percent. So, yeah.
On Dec. 1, the Sixers lost to the up-and-coming Detroit Pistons 115-100.
In what is becoming an annoying trend, the opposing team's big man torched the Sixers. Andre Drummond took some time off from his job as poster boy of Internet dating in order to score 31 points on 15 shots and collect 19 rebounds and six steals.
Carter-Williams continued to be startlingly inconsistent, shooting 30 percent in the game, finishing with 15 points and four turnovers. The only consistent part of Carter-Williams' game is his defense, where he's averaging almost three steals per game. That may not sound like an absurd amount, but Allen Iverson never averaged over 2.8 steals per game in his NBA career.
On Dec. 3, the Sixers defeated the Magic (this time lacking Vucevic) and snapped a four-game losing streak in dramatic fashion, winning 126-125 in double overtime.
The most notable stat in this game is that the Magic had a whopping nine bench points. They scored 125 points, and 116 of them came from the starting five. This included 26 points from Victor Oladipo, 33 from Glen Davis and 43 from Arron Afflalo.
Carter-Williams recorded the first triple-double of his career, with 27 points, 12 rebounds and 10 assists on 11-19 shooting. Not to be upstaged, fellow rookie Oladipo also had a triple-double.
Defensively, the issues are the same, with the Sixers getting crushed by random players from every opponent. For some reason, the Sixers are constantly unable to defend the token "he's still in the league?!" player from opposing teams. Previously it had been Caron Butler of the Milwaukee Bucks, and this time it was Davis.
In other news, the trade rumors are swirling around Turner. Teams like the Oklahoma City Thunder and the Dallas Mavericks have expressed an interest in landing him, but the more likely suitor seems to be the Cleveland Cavaliers. A rumor emerged early last week about a possible trade that included Dion Waiters coming to the Sixers. I'm not completely against the trade if it includes a lottery-protected pick for next year's draft, because Waiters is just not very good. Also, he has proven to be a bit immature and a tough teammate to get along with, starting fights with the lovable Kyrie Irving and Tristan Thompson.
Drexel music industry major David Bartler summed the season up nicely, saying, "Michael Carter-Williams has been a huge bright spot and is my current pick for Rookie of the Year. Assuming they continue to lose, they have a very good chance to build a great team around Carter-Williams in the draft."
The Sixers are currently close to the worst record in the league, so it appears that the tank is officially in full swing and that the team will continue to lose to improve their 2014 draft picks. Also, the Pelicans are now 9-8, and the Sixers will get their first- round pick next year as a result of the Jrue Holiday trade as long as it isn't in the top five picks, so root for them to lose as well, but not too much.