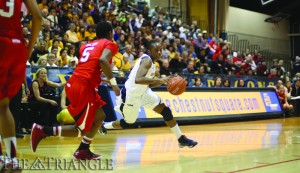 If you were to ask most young girls about their ideal "Cinderella story," a typical response would consist of falling in love, attending some sort of magical dance and living happily ever after.
But you were to ask four special Drexel women, they would have a completely different story. And they would be able to provide it in vivid detail because they lived it.
Those four special women would be Hollie Mershon, Taylor Wootton, Nicki Jones and Renee Johnson-Allen. They are all seniors who saw their collegiate athletic careers draw to a fateful close when the Dragons defeated The University of Utah April 6 to claim the Women's National Invitation Tournament championship.
After a game that was less than indicative of the kind of season she had, Mershon hit the game-winning layup with just 21 seconds remaining. After a Utah miss, she buried two free throws to put the Dragons up by three points, which was the final margin. It was a gritty finale from the leader of the team, one she said she could not have done by herself.
"I was missing a lot of layups, and I think it was just a lack of focus," Mershon said. "At the end of the game, what really motivated me was my teammates and my coaches still believing in me to make the final and winning shot and placing the ball in my hands. Their support and confidence really helped get it done."
And get it done she did. Those winning points, and the ensuing WNIT championship trophy, were merely signs of what she had done all year. Mershon averaged 19.5 points, 6.2 rebounds and 4.9 assists per game, all of which led the team.
When it came time to lead the team in the final game of her career, Wootton stepped up early and often. She scored the Dragons' first seven points when they struggled to get going offensively and paced the team with a game-high 16 points and six rebounds.
"I just really didn't want the season to end," Wootton said, her last name drawing its last "Woo" cheers from the Daskalakis Athletic Center crowd in possibly the most important performance of her career. "I just wanted to keep playing with my teammates, so I just tried to go out and do everything that I could do to help win the game."
While Mershon and Wootton headed up the offensive end, Johnson-Allen did her best to shore up the Drexel defense, something she's been known for since she came over from England to play for the Dragons. For Johnson-Allen especially, her final win in the Blue and Gold was something extremely amazing.
"I was playing basketball in my high school, and my coach just sent out game films," Johnson-Allen said as she explained her long, ultimately fulfilling, journey. "I was fortunate enough that Drexel got back to my coach and gave me the opportunity to play here. My coach said it would be a good fit for me, and he was right. I've loved it, and it's great to be able to come over here and win a . . . championship."
And while her four years here yielded a great deal of success, due in no small part to her basketball skill, she still recognizes how lucky she is to have ended it in this manner.
"I know girls that are European and foreign and haven't had the opportunity to come over and to win a . . . championship," Johnson-Allen said. "I've enjoyed the chance to be here, and winning a . . . championship is greater than I ever expected."
Jones had a slightly different path to becoming a champion. She was averaging 8.6 points and 4.6 rebounds per game this season when she sustained a knee injury February 14 and was unable to play in the Dragons' final 15 games. But as a senior and a leader on the team, Jones wasn't going to let a little sideline action stop her from enjoying and impacting this special ride.
"There was time for me to go to practice when I wasn't in rehab, and I was still talking to players and trying to help them out," Jones said.
Jones' comments sum up this team's attitude nicely. To them, it did not matter how much or how little they contributed as individuals in the box score. They played as a single unit all season, feeding off each other during hot and cold streaks, and rode the hottest one of the season all the way to a championship.
The best part of winning a championship is the memorabilia. Championship T-shirts and hats are nice, sure, but the most valuable item these girls will take with them after they graduate this spring is the piece of net they cut down after their victory.
"I had never won any kind of championship before," Wootton laughed. "I really can't describe the feelings, I was so shocked after the win. And to win a championship and end my career with a win, you know, not many people can say that. . . . So it's a great feeling."
These seniors, the four proverbial horsewomen, wrote the perfect ending to their respective careers alongside their teammates. They have left an indelible mark on Drexel women's basketball that will reverberate for years to come.
And they sure knew how to go out in style.