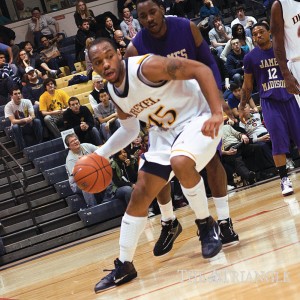 Since his arrival in the 2008-09 Drexel basketball season, now-senior Samme Givens has contributed as a force of extreme dominance for the men's team. As he steps into his fourth and final year, he will leave behind nothing short of a remembered and honored collegiate career.
Head Coach James "Bruiser" Flint made a strategic move as he confidently recruited Givens a few years earlier. Givens established a strong presence on the court while in his high school, Academy of the New Church located here in Philadelphia. During his adolescence he was named to the First Team All-League and All-Philadelphia teams in addition to the Class A Second Team-All Pennsylvania section. According to his statistics, this city-native averaged a total of 17 points per game as a senior.
Stepping onto the court from high school puts pressure on any student-athlete. Yet Givens is grateful for the opportunities he has been awarded.
"We get to do a lot of things that we wouldn't be able to do if we weren't student-athletes," he said. "Last summer we got to play in Turkey, and we get a chance to travel to a lot of different places."
Though a freshman, Givens commanded attention on the court, as he appeared in 29 games. This forward was a solid pick for the Colonial Athletic Association's All-Rookie Team in 2008. With an average of 5.6 points and 6.8 rebounds per game, Givens was ranked sixth in the conference. The end of this fall season proved to be just the beginning of the prominence he would display for the Dragons over the next three years.
For the second year straight, Givens led the conference in offensive rebounding as a sophomore and ranked fifth in total rebounding. He made his presence in every game and averaged 8.3 points per game. With his exponential improvement in statistics, he was leading the team to inevitable triumphs.
During his previous year with the Dragons, Givens earned the highest achievements of his career. As a junior starting in every game for the past three years, he earned Second Team All-CAA and Second Team All-District recognitions. Without surprise his statistics increased as well. Givens recorded an astounding 12.2 points per game in addition to his 10.1 rebounds per game, which were tops in the conference.
This gave the Philadelphia native national recognition. He was ranked 23rd in the country in overall rebounding. On the school level, Givens reached another record, ranking seventh all-time in total rebounds as he begins his senior season this fall. With his promising statistics, Givens just needs 193 boards to reach 1,000 total in his college career.
The constant improvement Givens has displayed over the past three years gives hope to a triumphant senior season. Bruiser has had the utmost confidence in Givens from the start of his career here at Drexel.
"He made himself into an All-League player," he said. "He's always been able to rebound and has increased his scoring over the past few seasons."
Givens, Flint and the rest of the team have been anxiously looking forward to the start of the 2011-12 season. Flint said that every year their main focus is just to try and win the CAA and get into the NCAA Tournament. In essence, the rest of the CAA teams have had their eyes on Drexel's start to the season for the past couple of months. It was released just a week ago that the Dragons have been picked by the league's coaches, media directors and media members to win the CAA men's basketball championship this fall.
After extensive fall training and scrimmages, the team is getting back on the court fired up.  This weekend, Drexel will hold their annual Midnight Madness event Nov. 5 at 8 p.m., allowing students and Dragons fans from all over to prepare for the upcoming basketball season. Everyone in attendance has the opportunity to meet and greet the team, in addition to watching Philadelphia's own Chiddy Bang perform. The hip-hop band, consisting of previous Drexel students, is performing after the opening DJ set, The Jane Daze. This weekend is sure to be one of the best opening declarations to the new season.
For Givens, it will be the last Midnight Madness for which he will be part of the team. During the four years of eligibility to play in a college sport, it gets difficult for any athlete to manage a hectic schedule. Givens advises his teammates that if you can take care of your classes, playing a sport is a piece of cake.
"If you work hard here and take care of business in the classroom, life on the court is so much easier," he said. "You are able to focus on basketball if you do that."
Lastly, the final season here with a coach like Flint will be one of the hardest things Givens will eventually have to come to. He stated his admiration for the coach in his acknowledgments of how busy the life of a student-athlete sometimes gets.
"He looks out for our best interest," Givens said. "He knows that academics come first and that it is important for us to get a good education, graduate and become a successful person in society."
People often follow the quote, "Save the best for last," which can apply to almost any given situation. For this senior, it's hopeful that this season will be his personal best, in addition to one of the team's as well. After strenuous practices and lifting sessions, the team knows what they need to do in order to conquer the conference. Givens is determined to make it happen.
"We know we were picked to do well, and if we come out playing well, good things should happen," he said.
If you're not around to catch the celebrations of Midnight Madness this weekend, make sure to mark your calendar for the Dragons' first home game against Princeton Dec. 10.