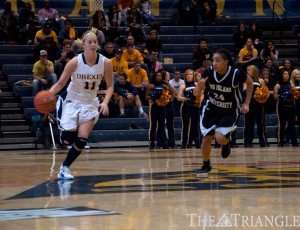 Senior year is always a special year for those who have the privilege to play sports. It's a time to look back and reflect on what has been done and what more could have been done. However, it also represents one last opportunity for an athlete to leave a lasting legacy on a team and program. For Drexel University senior Hollie Mershon, leaving a legacy is not an issue. She is already one of the most versatile and accomplished players to have ever played here at Drexel. All that is left for her to accomplish here at Drexel is winning a Colonial Athletic Association championship.
In order to accomplish that goal, Drexel women's basketball head coach Denise Dillon will turn to Mershon along with her three fellow seniors: guard Renee Johnson-Allen, forward Taylor Wootton and forward Nicki Jones. Dillon will look to these players because of their talent and experience.
While all four of these players will be under pressure to lead Drexel to a CAA championship, especially after making a finals appearance last year, Mershon is expected to have more eyes concentrated on her this upcoming season.
This past week, Mershon was named as a first-team selection to the All-CAA team. The selection serves as affirmation that there are extra eyes on Mershon this upcoming season. The preseason selections are not based on any performance this year; however, they serve as a prediction of performance and impact according to an athlete's previous performances. Essentially, big things are expected from Mershon this upcoming year, and she is the key player who can drive the Dragons to accomplishing their goals.
"It feels great to be recognized as one of the top players, but I know that I have a lot of work ahead of me, and I am just focusing on being the player that my team needs me to be in order to achieve our goals," Mershon said of receiving the preseason honor.
Mershon has had a steady growth under Dillon and has evolved into the dynamic player that she currently is. Coming from Archbishop John Carroll High School, where she won three Philadelphia Catholic League championships and the 2009 Pennsylvania state championship, Mershon was one of Dillon's most heralded recruits. Her versatility and playmaking ability was what made her unique and has served her well throughout her career at Drexel.
In her freshman season, Mershon's ability to come into games off the bench and instantly make an impact not only on offense, but also defense, made her one of the key bench players of Dillon's team that year. Her performance off the bench against Virginia Commonwealth University on Feb. 14 of that season served as evidence of her impact and of things to come. Mershon came off the bench to score seven points and dish out five assists, four rebounds and two steals — a stat line any coach would be proud of. Mershon also didn't miss a single free throw in her freshman season.
Mershon's sophomore season was full of surprises. She was not expected to start because then-senior Marissa Crane was ahead of her on the depth chart. However, after Crane suffered a season-ending knee injury, Dillon tabbed Mershon to be the team's starting point guard.
"I think that for me personally, every year has been a little different simply because I had to change roles in my position," Mershon said about her experience her sophomore season. "I was asked to play in the point guard position when our [point guard] Marisa Crane was injured. It allowed me to experience a whole different part of the game."
Mershon's ability to quickly adapt to a new position proved to be beneficial to the team that season, as they made a second consecutive appearance in the women's National Invitation Tournament.
This past season, Mershon's junior year, would be her coming-out party.
Mershon started all 33 games for the Dragons and averaged 14.5 points and 5.2 rebounds per game. Her 14.5 points per game was second on the team and ninth in the CAA in scoring. Dillon would use Mershon as a combo guard because of her unique ability to be both a scorer and passer.
Mershon hit 58 three-pointers, scored double digits in 28 of the 33 games and had 108 assists to lead the team. Against James Madison University she scored a career-high 27 points. As a result of her outstanding junior season, Mershon was named to second team All-CAA and voted Drexel's co-MVP for the 2011-12 season.
Heading into her senior season, Mershon ranks 24th on Drexel's all-time scoring list with 860 points and is looking to become the 20th player in Drexel women's basketball history to reach 1,000 career points.
Mershon is a true jack-of-all-trades. Her ability to score, pass, rebound and defend is something very few players possess. She is also one of the anchors of a swarming Drexel defense that finished at the top of the CAA, and she is in one of the nation's top five scoring defenses, allowing just 54.3 points per game. Dillon and Mershon believe that their defense is going to be a key factor this season if this team is to contend for a championship.
"Our goal is to have a winning season and win the championship," Mershon said. "We have a strong team defense, and if we stay focused on that end I think that we will come out strong. I think the biggest challenge will be to get back to the championship game because that's everyone's goal. Our team just has to stay focused on consistency and making a commitment to be the best defensive team out there."
In Mershon's three years at Drexel, she has achieved great things; however, the one thing that has evaded her and her fellow seniors is a CAA championship and a berth in the NCAA Tournament. Achieving both this season would cap a storied career of one of the most complete players to ever step on the court for the Drexel Dragons. When asked how she wants to be remembered by Drexel fans, Mershon replied, "as someone who is willing to do anything for the team and everything to win." As a result of her unselfish play on the court, it will be hard to forget her.