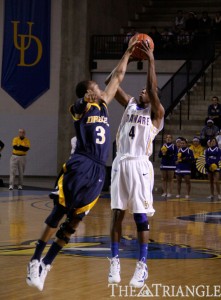 For the Drexel men's basketball team, the upcoming season has a chance to be the most prolific campaign in recent memory. After receiving five votes in the AP Top 25 preseason poll, the term "mid-major" is merely a label as the Dragons reach the final throes of their season preparations.
While having junior Frantz Massenat and sophomore Damion Lee on the All-Colonial Athletic Association First Team is certainly a great pillar to lean on, the team will also need to follow a key factor of a successful sports team: leadership. That's where senior guard Chris Fouch comes in, as one of three elder statesmen on this year's team.
Within the team's offensive system, Fouch, Drexel's instrumental sixth man, will have a unique opportunity this year. With the departure of big man Samme Givens, the Dragons are moving toward a totally guard-oriented offense this season, as the three best players are guards. This will give Fouch a chance to play a James Harden-esque role: being the third-best player on a team with two stars ahead of him could result in favorable defensive matchups when he's on the court.
The question isn't whether or not Fouch will capitalize on the opportunity but rather in which fashion he will do so. Last year, he saw his production decrease noticeably with the emergence of then-freshman Lee's role in the offense. Fouch's points per game, minutes per game, rebounds per game, shot attempts and field goal percentage all decreased, and he ended the season with 120 fewer field goal attempts than the season before. The interesting part of his upcoming season will be to see what facets of his game he has worked on in the offseason and how he improves.
However, two key parts of Fouch's game improved last season: his three-point shooting percentage and his free-throw percentage.
The Dragons' offensive game tends to focus on a barrage of three-pointers (justified, as they had three guards last year shooting above 36.5 percent), and if Fouch can continue to produce efficiently from beyond the arc, he'll be a huge part of the team's offensive strategies.
And the free-throw shooting is just as crucial as the three-pointers, if not more so. This year, with their sights set on a CAA conference championship and an NCAA Tournament berth, the Dragons will have to increase their emphasis on foul shooting. Close games are often decided by free throws in the late stages of the second half, and if the team needs a player to step up to the line and hit a big pair of free throws late in a game, head coach James "Bruiser" Flint will probably have Fouch on the court. Fouch was actually the team's leading free-throw shooter (with a minimum of five attempts) last season, the only Dragon to sink more than 80 percent of his free throws. While the team as a whole needs to work to improve its accuracy from the charity stripe, Fouch will certainly play a key role.
Coming off the bench isn't always the most glamorous role on a basketball team when so much emphasis is put on being a starter. But as Mike Tuberosa, Drexel's associate athletic director, put it, "[Fouch] has really embraced his role as the team's sixth man and is going to play a huge part in the team's success this year."
If he can pick up the pieces of his game that need a boost (such as improving his scoring efficiency), look for Fouch to play a big role in the Dragons' high-profile season.
The men's basketball team kicks off its season Nov. 9 at Kent State University. The first home game at the Daskalakis Athletic Center takes place Nov. 15 against Illinois State University.