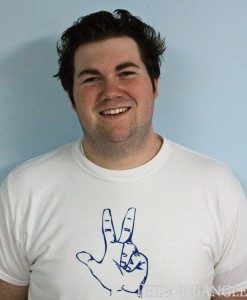 Yep, this is the end for your old pal Joey. The worst math student in the history of Drexel University is graduating.
I was told I could write about whatever I wanted here, and because I'm graduating, the editors have to publish it. So, here is why I am convinced there is a conspiracy going on within the NBA to keep the 76ers down.
Just kidding.
I suppose I should be able to offer some pearls of wisdom now that I am officially college educated, but I'm not sure if that means I am wise. What I do know is that in life and in writing for The Triangle, I have always lived by a simple phrase: "Got a minute?"
Whenever I had to interview anyone, I would simply ask them, "Got a minute?" That minute may have been a minute, or may have been an hour. Either way, I feel like people were happy to oblige.
That simple phrase introduced me to a world of unique and interesting people.
There were three times that stand out to me while at The Triangle when my "got a minute?" principle really paid off.
Alex Falk, sports editor extraordinaire, called me one day and asked if I would be on campus that night to cover a banquet for the women's crew team. I told him I would be there. When I got to the event, horribly underdressed, I met assistant athletic director Mike Tuberosa, who would become my top liaison in talking to coaches and players. He told me that the new president, John A. Fry, would be in attendance. This was only a few days after Fry had been named president, and the inauguration hadn't even happened yet.
When I saw him walking across the room, I shadowed him and eventually cut him off.
"Hi, President Fry, I'm Joe Ciminera from The Triangle, got a minute?" I said.
"Hi Joe, sure," he responded.
I am not 100 percent sure of this, but I like to believe I had the first Triangle interview with Fry.
My second most memorable experience was when I was given the opportunity to review the film "Moneyball" and interview its co-star, Jonah Hill.
I was placed in a large suite with two other college newspaper writers, and we tensely awaited the star of "Superbad." When he finally came into the room, he was friendly and made us feel comfortable.
At one point during the interview, Hill was saying he got into show business when he was my age. I told him the only reason I hadn't busted into the business yet was because me and Brad Pitt, his "Moneyball" co-star, were always up for the same roles. Hill laughed.
Making Jonah Hill laugh is probably my greatest moment at The Triangle.
My third standout experience occurred when the sports section decided to start a new series of articles featuring great Drexel athletes of the past, and Falk assigned me the first one. We would profile Malik Rose, the former Drexel basketball standout and two-time NBA champion. We didn't have an interview planned, but knowing that Rose was working for the 76ers as a commentator, I thought I could get him.
Over the course of two days, with the assistance of Falk, I sent about 15 emails, eventually being told that Rose would call me.
It might not seem like much, but I was very proud of myself for being able to track down Rose. Even so, I wasn't sure that he would call.
At around 2 p.m. on a Wednesday, my phone rang.
"Joe, what's up, it's Malik Rose," he said. When I heard that, all I could think to say was, "Hey Malik, got a minute?"
Now, when you are a basketball junkie like me, getting a phone call from a two-time NBA champion is pretty incredible, and what made it even better was that he turned out to be a really great guy. A true Drexel Dragon.
Those are three memories I will never forget, but I truly never had a bad time at The Triangle.
I would like to take some space now to thank some people who have really helped me out a great deal.
First, I'd like to thank Mr. Tuberosa and everyone at the sports information department at Drexel. They were incredibly helpful and are second to none. I'd also like to thank every coach and athlete who made my job as a reporter very easy.
I want to thank the three-headed monster editing team at the sports section. Editors Alex Falk and Julia Fisher, along with assistant editor John Chagaris, have all worked extremely hard at making me look like a better writer than I am.
I need to thank the professors who taught me how to write like a journalist. Devon Powers taught me how to write with style, Ron Bishop taught me how to write with purpose, and Karen Cristiano taught me how to write things I can be proud of.
I also want to thank my friends and family, especially my sister, Kerri Ciminera, who served as my own personal proofreader, and my parents, who are now living in cardboard boxes after putting me through Drexel.
Most importantly, I want to thank my grandfather, the first Joe Ciminera, who always reminded me that even if no one else was, he would be reading my stories.
Go out and talk to people. Everyone has a story to tell and a minute to tell it.