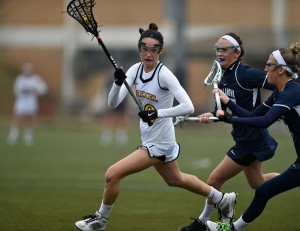 The Drexel University women's lacrosse team came out strong in their season opener at Vidas Field Sunday, Feb. 14. The team dominated American University with a final score of 14-4. Despite the below-freezing temperatures, the Dragons were on fire and did not let up.
Drexel put up seven goals in the first half and outscored the Eagles 7-1 in the second half.
Senior Emily Duffey scored the first goal of the season for the Dragons less than four minutes into the game. Shortly thereafter, junior Devin Nihill scored another goal, giving Drexel a 2-0 lead. The two continued to score, earning a total of eight points.
Immediately after American University scored their first goal, Drexel rebounded with two more goals from Duffey and Nihill. Nihill was assisted by junior Caroline Thiele on the fourth goal.
One quarter of the way through the game, sophomore Nadia Pelham-Lacey contributed to the Dragons' lead; she finished the game with two goals and four assists.
Before the end of the first half, Drexel scored twice more. Junior Lacey Aghazarian was responsible for the sixth goal; while Duffey added the seventh. The Eagles scored once more before the completion of the first half. Going into the intermission, the Dragons had a 7-3 lead.
After the break, Nihill and Duffey came out strong, each picking up another goal. Pelham-Lacey scored her second goal of the day, bringing Drexel's goal count into the double digits.
The final four goals were scored by Beilman, Aghazarian, junior Lauren Gerrie and Nihill. American University scored one more goal within the final five minutes, but was unable to overcome the Dragons' onslaught.
Junior Carlee Ries played the majority game in goal for the Dragons. She only allowed three goals in the first half and was not scored upon in the second. Freshman Sigourney Heerik came in for the final three minutes and 40 seconds of the game. She ended her college debut with one goal and one save.
Midfielders Eva Winiarski and Thiele helped the Dragons gain victory with excellent performance. Winiarski took six out of 10 ball controls, as well as she and Thiele each caused three turnovers.
The women will return to action Feb. 20, when they travel to New York City to take on the Columbia Lions.