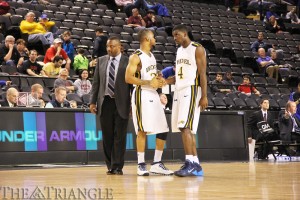 I texted my editor, Bryan Fyalkowski, Sunday night because I didn't know how to write my weekly story about the Drexel men's basketball team. I wanted it to be something with substance because a straight-up game story six days after the event actually happened would be a waste of column inches.
I have written over 37,000 words about the team in the past six months. Many of those words were repeated countless times; for example, points, percent, victory, defeat and Frantz.
But suddenly, words weren't coming to mind. An empty page sat in front of me and laughed because, after six months of eliciting effusive stories from a relentless group of 14 men, the season was finally over.
The Dragons lost, 90-81, in the first round of the Colonial Athletic Association Tournament March 8. They will not earn an at-large bid to the NCAA Tournament. Their National Invitation Tournament hopes aren't promising, either.
I devoted half a year to covering this team only to watch the whole thing crumble like the oversized cookies offered in the media room at Baltimore Arena this past weekend. I indulged in a few too many of those crumbly cookies Saturday evening.
It was all I could do to fill the basketball-sized hole left by the loss.
It's easy to look at the season of a team like this one as an exercise in long-winded futility. The team's chances of winning the CAA were high in October, but their chances of winning the NCAA Tournament? I promise, you don't want to calculate that kind of number.
So why do they play? Why do they attend practice nearly every day and give the majority of their waking hours to something that most deem dead on arrival?
And what kind of person could possibly care so much that he or she would cover them as thoroughly as I did this season? The Dragons were always going to finish the season with a loss.
They play because, as senior point guard Frantz Massenat reminded himself and his nearly 2,000 Twitter followers every day, "TiMD," meaning, "This is My Dream."
Basketball is his dream. Basketball is their dream.
And I covered them because the Drexel men's basketball team represents a lot that is right, not just with college sports, or sports in general, but with people. Human beings. A basketball season is not an exercise in futility. A basketball season is an exercise in the human spirit.
I watched Damion Lee tear his ACL, an injury suffered amid what could have ended up as the most memorable game he'd ever played in, against No. 4 University of Arizona. He writhed in pain on the floor just 25 feet from where I sat on press row, the media hushed.
I watched Kazembe Abif return from missing the contest against Arizona with a concussion and lead his team to an emotional victory just two days later, a triple-overtime affair in which the junior forward piled up 15 points and 11 rebounds in his best 46 minutes of the season. I sat on a couch in New Jersey and wished like hell I could have been on press row that evening.
On Senior Night, I watched Massenat receive a standing ovation from the DAC Pack. He pointed to his father in the crowd who happened to be sitting right over my shoulder as I sat on press row. It would be the last time he would ever point to his father as he walked off Sam Cozen Court.
In the press conference of that Senior Night game, I sat and enjoyed the musings of a gushing James "Bruiser" Flint as he praised the six men who had spent their entire time at Drexel University spending countless hours under his tutelage. For a head coach who enjoys intimidating referees on the court, it was startlingly touching. I will never delete that recording from my computer.
And this past weekend I watched the best — and worst — moment of the entire season.
Chris Fouch lay on the court in Baltimore Arena after taking a knee to the stomach in the final minutes of the loss March 8. The Dragons were attempting to mount what would ultimately be a fruitless comeback attempt, trying to make up for lost time and missed jump shots.
As Fouch rose from the hardwood, trying to catch his breath, the big screen in the arena showed his mother in the crowd. She stood, like most Drexel fans in the crowd, with baited breath. But unlike most fans in the crowd, she didn't seem worried about Fouch's injury.
She was more worried for what was about to come.
Fouch stood up with the aid of his teammates and gathered his footing. As he tilted his head to read the scoreboard hanging fifty feet above he let out a loud yell, audible over the applause raining down from the Dragons' faithful.
His ribs were fine. What hurt Fouch the most in that moment was that he knew his time with this team was drawing to a close and there was nothing he could do about it.
He had tried to intercept an outlet pass on the previous play. He was really trying to intercept the end of his career.
After the final buzzer sounded, the Northeastern University players and head coach Bill Coen answered reporters' questions in the media room and then filed out. Then it was Drexel's turn at the podium.
My friend and colleague Josh Verlin turned to me and said, "This is going to suck," both of us knowing full well the ensuing press conference wouldn't field many quotes, if any at all.
Massenat entered the room with his hood over his head and never took it off. Fouch fought through the emotions and gave a few answers.
A normal Drexel press conference lasts about seven to eight minutes during the season. This one didn't make it to three.
But in those three minutes, Fouch uttered one sentence that made the whole season worth it.
"You learn life lessons, not just basketball, and you've just got to take it for what it is."
The loss to Northeastern was disheartening; for six men it ended their careers as Drexel Dragons. But it won't stop them from playing basketball forever, because nothing this season stopped them from doing what they love. All 14 members of the team can pick up a basketball, the same as they could in September and put up a shot.
As Fouch explained, that's not just a basketball lesson, that's a life lesson. And it's the sum of a season's parts that teaches you these lessons.
So that's why they play the games. And that's why I'll be back next season, sitting on press row, ready to watch these Dragons win and lose and learn yet again.
In fact, I wouldn't want to be anywhere else.