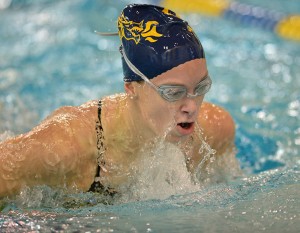 While most Drexel University athletes finished their seasons at the beginning of summer and are currently preparing for the coming season, there was one Dragon rigorously training and competing through the end of June.
That Dragon is rising senior swimmer Rachel Bernhardt.
Bernhardt had a particularly standout season this year, embodied through a number of different accolades.  She was named the Colonial Athletic Association's Women's Swimmer of the Year, and was the first Dragon to ever win that honor. She was the first Dragon to grab a gold medal in the CAA championships, which she earned in the 100m and 200m breaststrokes, breaking Drexel University records for both. She was named Drexel's athlete of the week twice in March — and that's not all.
The swimming season ended in March, but Bernhardt didn't stop. She had qualified for the U.S. Olympic Trials.
A stellar season earned Bernhardt a spot at the swimming Olympic Trials that took place in Omaha, Nebraska at the CenturyLink Center. On the first day of the trials, June 26, she hit the water for the 100m breaststroke preliminary race and on June 30, she got back in the pool for the 200m breaststroke.
Her 100m breaststroke race was impressive — she came in first in her heat of 10 swimmers with a time of 1:10.27, 19 hundredths of a second faster than her qualifying time. Her time placed her 43rd overall out of 125 swimmers.
In the 200m breaststroke, Bernhardt placed 74 out of a total 124 swimmers, with a time of 2:35.75.
Although her season ended at the trials and she won't be making an appearance at Rio de Janeiro, there's no disputing that Bernhardt capped off a great season that'll carry into a great senior year.