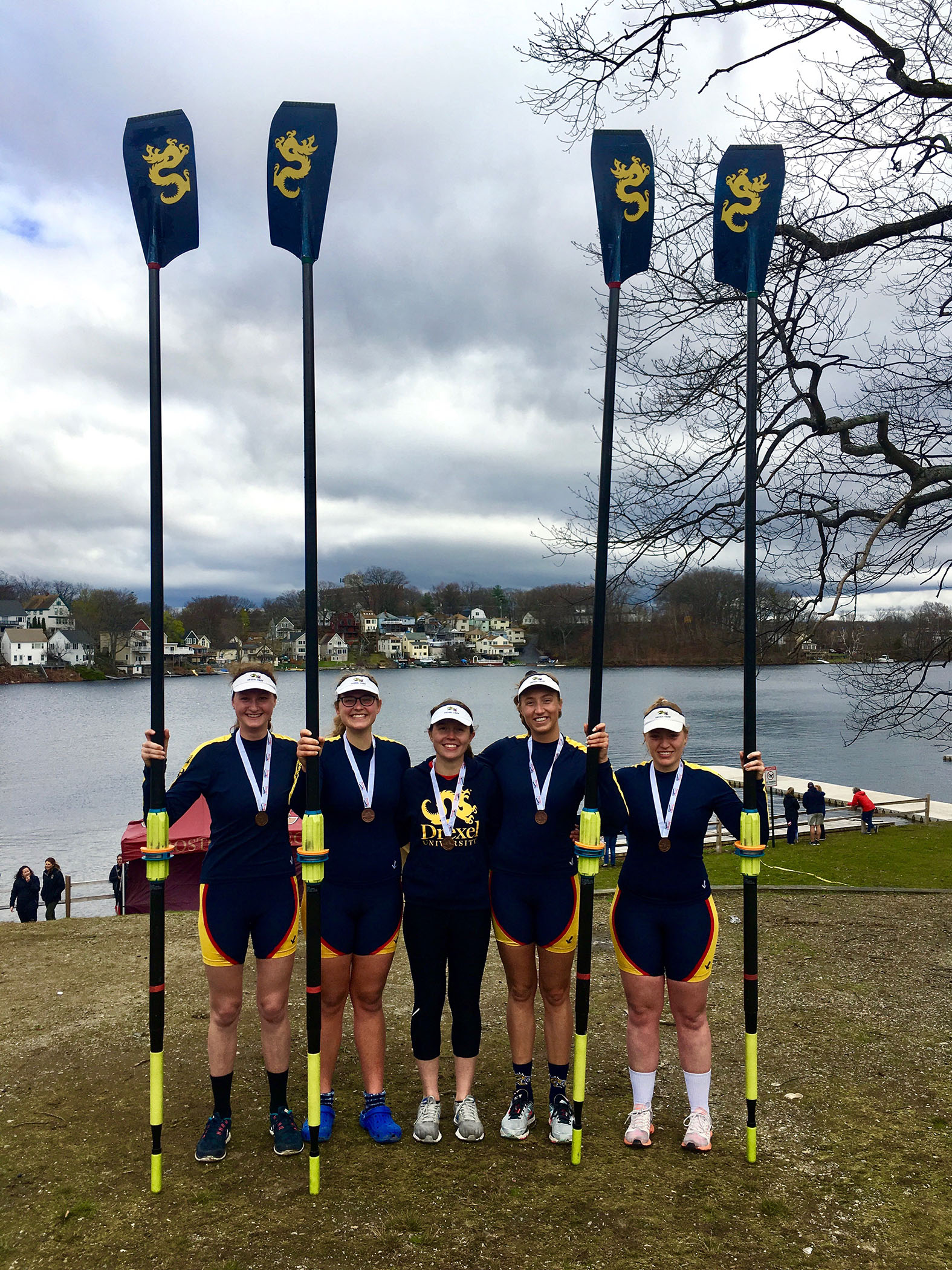 The Drexel University women's crew team headed to Worcester, Massachusetts April 29 to compete at the Eastern Springs on Lake Quinsigamond. The varsity four's third-place finish proved to be the highest place finish for the Dragons, while both the varsity eight and second varsity eight took ninth overall.
The varsity four continued their success this spring, racing in the Diane Corle boat. The only Drexel boat to qualify for a grand final on the day, the team raced to a third-place time of 7:33.730, a tiny margin behind Dartmouth College for second. With a time of 7:24.982, Radcliffe Institute for Advanced Study at Harvard University took the title on the day. The team was made up by coxswain junior Danika Meldrum, and crew of senior Christine Wojciechowicz, freshman Bailey Price and seniors Kayley Slicer and Rachel Frank.
The varsity eight, racing in the newly premiered Alleva XVII boat, progressed to the petite final after finishing behind Dartmouth and Columbia University in the heats. In the petite, the Dragons took third place with a time of 6:43.646, ahead of Boston College by just over a second. This team featured junior coxswain Maggie Collington and crew of junior Natalie Alleva, senior Paige Propp, sophomore Kylie Magee, junior Anna Savage, freshman Isabella D'Angelo, junior Amanda Reale and seniors Catherine Haas and Meghan Knecht.
The second varsity eight, racing in the Cara Fry boat, also reached their petite final, finishing third. With a time of 7:03.310, the Dragons ended behind Boston College's 6:59.218 and the University of Tennessee's 7:00.658. Lineup on the day saw senior, and sports editor for The Triangle, Hayley Roth as coxswain, along with a crew of junior Stephanie Horn, freshman Jeannie McGill, sophomores Fiona Mauer and Margarita Amihava, junior Sofia Ryan, sophomore Julianna Hunt, senior Jennifer White and sophomore Mackenzie Dorsett.
The third varsity eight, racing in the Marlene Buckley II boat, finished with a time of 7:34.521 behind city rival Temple University in their petite final. Freshman coxswain Ciara O'Brien led the crew of freshman Makayla Wenzke, juniors Maggie Johnson and Kristen Shema, seniors Erin Archibald, Jennifer McManus and Kate Edwards, junior Mairen Hilary and freshman Shannon Boyle.
The Drexel men's crew team also faced a tough weekend of competition. The teams finished competition April 28 at Overpeck Park in Leonia, New Jersey, against Columbia and the University of Delaware lightweight teams. The Dragons took two second place finishes.
The second varsity eight, racing in the Sandra Lee Sheller II boat, finished just under nine seconds off Columbia (LWT) to finish second with a 5:57.5. The team was made up of senior coxswain Malcolm Newman and crew of sophomore Colin Stewart, freshman Matt Reilly, sophomore Anthony Williams, senior Justin Terek, juniors Justin Best and Ben Lee and seniors J.P. Clark and Ryan Rimmele.
The Dragons' fourth varsity eight, racing in the Joseph Greipp boat, also managed to secure second place with a time of 6:13.0, just under four seconds off Columbia's winning time. The lineup of this boat on the day was freshman coxswain Chris Clifford and crew of freshmen Matt Perlick, Colin Fowler, Cole Rooney, Joe Aach, Matt Weaverk, Joe Walkowiak, Ian Burke and Erik Tingley.
Drexel's men's varsity eight, racing in the Lois Krall II boat, finished behind Columbia (LWT) to take third with a time of 5:53.9. In the Lois Krall I boat, the third varsity eight finished with a time of 6:18.9 for another solid third place.
Both the men's and women's teams will close out their regular season May 11-12 when they race for a sixth consecutive overall team title at the 80th annual Jefferson Dad Vail Regatta on the Schuylkill River.