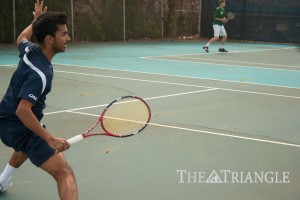 The Drexel men's tennis team recently finished up competition at Cornell University earlier this week, as a few members of head coach Tricia Udicious' squad took part in the Intercollegiate Tennis Association Northeast Regionals.
The highlight of the ITAs for the Dragons was freshman singles player Badr Ouabdelmoumen. The rookie faced off against Jason Lin, a senior from the University of Pennsylvania, in the opening round. He defeated the Quaker in three sets, 4-6, 6-3, 6-2 to advance on to the second round, where he would face the region's eighth-ranked player in Brown University sophomore Soufiane Azarqui. Although Ouabdelmoumen played him tough, he fell in straight sets, 6-3, 6-1.
"We had some ups and downs this past week at Cornell," Udicious said. "Badr Ouabdelmoumen, a freshman, had a great win over Jason Lin from Penn, who was undefeated in dual matches last year. He played well in his loss to the No. 8 seed from Brown and gained valuable experience as to how hard he needs to work to get to that highest level of college tennis."
Also playing in the singles draw was senior standout Nikoloz Kurdadze. Although Udicious believes Kurdadze is extremely talented, the senior faltered in the opening round, losing in straight sets, 6-1, 6-1 to freshman Danny Riggs of hosting Cornell.
"Nikoloz Kurdadze did not play well in his first-round match, and it could cost him a shot at a regional ranking, which I believe he is capable of," Udicious said.
Other players that competed were senior singles player Bryan Nguyen, who Udicious felt had a "disappointing three-setter" against Binghamton senior Rafael Rodrigues — Nguyen dropped the match 6-2, 1-6, 3-6 — as well as sophomore standout Skyler Davis, who competed in the doubles draw, partnered with Ouabdelmoumen.
"Skyler Davis and Badr played tough and also saw what they need to improve in their doubles in their loss to a Columbia team that reached the quarterfinals," Udicious said.
All in all, Udicious summed up the ITAs as an event that helped her players gain experience that will do nothing but help the Dragons as they advance through the rest of their fall season, as well as the upcoming later winter and spring season.
She feels it will be a "great motivator" for all of her players.
Up next for the Dragons are their final two dual matches of the season. First they will travel to Lawrenceville, N.J. Oct. 25 for a matchup with the Rider Broncs. Drexel will be facing a reeling 2-5 Broncs squad in need of a win, so the Dragons should be looking to capitalize.
After their trip to New Jersey, Udicious and company will head back home the next day for their final match of the season Oct. 26 as the Dragons play host the Fordham. The Rams are on the other end of the spectrum when compared to the Broncs, as they are 6-0 on the fall season. The Dragons will definitely have their hands full as they look to close the season on a high note.