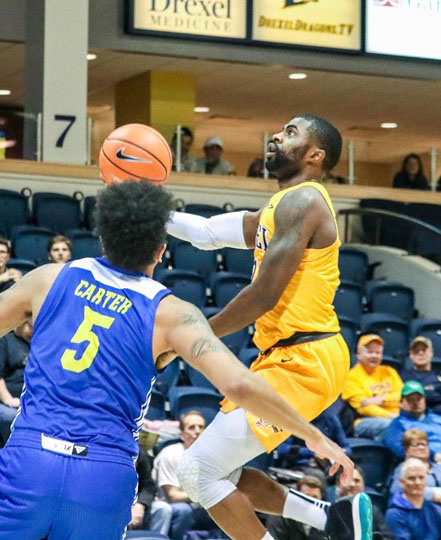 The Drexel University men's basketball team saved their best performance for their matchup against the University of Delaware Feb. 22, where the Dragons made National Collegiate Athletic Association Division I history with the largest comeback ever.
It certainly did not start well for the Dragons, as they got steam rolled in the first half. Delaware shot almost 62 percent from the field in the first half, compared to the Dragons shooting just 34 percent.
Tramaine Isabell, Drexel's reliable star all season, illustrated these struggles in the first half by shooting just 3-11. The Dragons had no answer for Delaware freshman Ryan Allen, who hit five three pointers in the first half. That alone was two more than Drexel managed to shoot as a team. These offensive struggles helped Delaware outscore Drexel in the first half 56-29.
Yet just as he has all season, Coach Zach Spiker kept the team open-minded and focused coming out of halftime. The Dragons played like a completely different team in the second half, showing the energy and hustle they initially lacked. Drexel started the second half by going on a 18-4 run.
Isabell found his stroke and helped lead the Dragons on their historic 34 point comeback, scoring 22 of his 29 points after the break. Drexel stepped up their defense as well, forcing eight Delaware turnovers and holding the opponent to just 1-9 from three.
In total, Delaware managed just 27 points in the second half on 38 percent shooting. Drexel, on the other hand, exploded for 56 points on 57 percent shooting in the second half. The Dragons managed to take their first lead of the game with 1:13 left after Austin Williams's tip shot put Drexel up 83-81.
Though Delaware managed to respond with a basket of their own, they made a crucial mistake and sent Isabell to the foul line with two seconds left in the game. Isabell hit both free throws with supreme confidence to regain the lead for the Dragons. With two seconds left Delaware's Eric Carter tossed a last second shot but it was no good. The Dragons won by a final score of 85-83.
This victory was by far the most impressive of this roller-coaster season for the Dragons, as they will forever be enshrined in NCAA history. In fact, the game was so impressive that the Dragons were on Sports Center, receiving national attention for the first time this year.
The energy from this historic game continued into the regular season finale, as Drexel faced another nail-biter against the University of North Carolina Wilmington. After falling behind by as many as 13 points in the first half, the Dragons found themselves in familiar territory once again.
Perhaps inspired by their previous performance, the Dragons managed to claw their way back much more efficiently this time, and even managed to take a four point lead into halftime.
Drexel continued to play well in the second half and was feeding off of the energy of the Dragons' faithful. Isabell had another stellar game, as he went for 29 points, eight rebounds and six assists. In his last game ever at the Daskalakis Athletic Center, Austin Williams was all over the boards as he accounted for 14 total rebounds and added seven points.
Unfortunately, UNCW had answers of their own, as senior Jordan Talley tallied 21 points to go along with sophomore Ty Taylor II, who scored a team high 23 points. Talley also hit what became the game winning basket with eight seconds left.
Drexel's Kurk Lee managed to get off a contested two point look with a second to go, but it bounced wide. Austin Williams's last second putback came up just short as well, and just like that, the Dragons' dream of back-to-back comeback stunners disappeared with an 83-82 loss.
Drexel finished the regular season with an overall record of 12-18 and a conference record of 6-12. Drexel will now hope to have better success in the Colonial Athletic Association playoff tournament as they will play James Madison University March 3 in the first round elimination game.