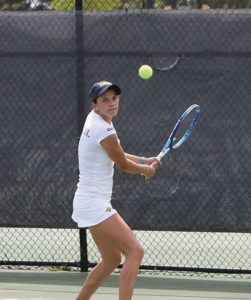 This past weekend, the regular season for the Drexel University men's and women's tennis team came to a close. The men's team ended their season with a record of 13-7 and the women's ended their season 13-6.  
The men's tennis team played April 13 against nearby Temple University and suffered a 5-2 defeat. The Owls jumped on the Dragons early and did not give them a chance to get warmed up.
The Dragons lost the doubles point and ended up winning only 2 of the 6 singles matches. Senior Xabier Saavedra played first singles and lost to Temple senior Santiago Canete by a score of 6-2, 6-4. Saavedra has only one more match remaining as a Drexel Dragon.
Saavedra paired up with sophomore Balaji Lakshmanan for third doubles and lost in a tie breaker match of 7-6 (11). The match was very close and could have gone either way, but the owls ended up on the winning side.
Sophomore Hamza Laalej played 3rd singles and 1st doubles. He lost his singles in 3 sets, 5-7, 6-4, 10-7, with the final set being super tiebreaker. Balaji Lakshmanan played 5th singles and ended up losing his singles match as well, 6-3, 6-1.
Two players on Drexel's men's team ended up winning their singles matches and prevented Temple from having a clean sweep. Freshman Sinan Orhon played exceptionally well and won his match 6-4, 6-0. Orhon has an exceptional tennis career behind him before joining the squad at Drexel. He has been ranked as high as 82 in the national recruiting rankings and has reached a career high of 652 in the ITF Junior rankings. Junior Daniil Ginzburg also won his singles match with a score of 6-4, 6-1. Ginzburg also has a very impressive bio, having played for Monmouth before transferring to Drexel this past fall, and has competed in International Tennis Federation Junior and Pro Circuit Events.
As per doubles, Orhon and sophomore Kashyap Ashok won their doubles match 6-3, while Ginzburg and sophomore Hamza Laalej lost to the Owls 6-4.
Following their loss to Temple, the Drexel men's team travelled to Harrisburg, Virginia April 16 to take on James Madison University in their final regular season match. The Dragons made history by defeating JMU, a team they had not beaten prior to this past Saturday's matchup, by a score of 5-2.With the win, the men also reached the 13 win mark for the first time in school history.
Drexel got points from the last 4 singles spots and acquired all 3 double points. Xabier Saavedra played 1st singles again for Drexel and lost by a score of 6-1, 7-5. The loss brought his career record at Drexel to 42-32 in singles. Saavedra and Lakshmanan paired up again and won their 3rd doubles match 6-3.
Andrew Sinai lost his 2nd singles match in a 3 sets; 6-3, 4-6, 6-3. Sinan Orhon won his match at 3rd singles, 6-3, 3-6, 6-3. Sophomore Hamza Laalej played singles and doubles against JMU and won both of his matches. He won his singles match 4-6, 7-6, 6-0 and his doubles match with Ginzburg 6-3.
Balaji Lakshmanan played 5th singles and won 6-1, 7-5. With this match, he improved his overall season record to 8-4 for singles.
Drexel's men's team finished the season 13-7 overall and 3-2 in the Colonial Athletic Association. Their next match will be April 22 against The College of William & Mary in CAA Championship tournament in North Carolina.
Switching over to the women's side, the Lady Dragons, alongside the men's and women's swimming and diving teams, received the NCAA's Academic Performance Program public recognition award. This is the 7th straight season that the women's tennis team has received this award.
The women's team played their final regular season match against James Madison University April 16 and fell to them by a score of 5-2.
The Lady Dragons got their two points against JMU in the 2nd and 4th singles matches. Junior Honami Yazawa, Drexel's 1st singles player, played in a very close 3 set match, but lost 5-7, 6-0, 6-2. Yazawa was also a part of the 1st doubles team and she, along with her partner sophomore Clary Rodriguez Cruz, suffered a 6-3 loss.
Rodriguez Cruz won her match singles match 6-0, 6-3 making her overall season record 5-3 for singles. Sophomore Kendra Bunch lost her match in a close 3 sets; 5-7, 6-4, 6-3. Sophomore Ryshena Providence continued the trend of going into 3 set matches, but also ended up losing with a score of 7-6, 7-4, 6-3.
Junior Lea Winkler won her match 6-4, 6-2. The last singles match, played by junior Fiorella Coria, also went 3 sets. Fiorella lost by a score of 6-2, 4-6, 6-4. Providence and senior Eric Bowsher lost 6-2 in the 2nd doubles match, and Bunch and Winkler lost 6-2 in 3rd doubles.
The loss made the Lady Dragons' overall season record 13-6, and gave them a 2-4 record in the CAA.
Both the men's team and the women's tennis team will play in the CAA championship tournament April 22. They will travel to Elon, North Carolina to play against Elon University.