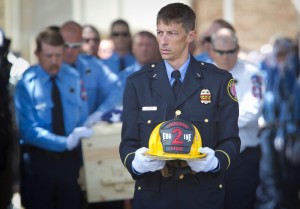 Conroe firefighter Greg Nesom carries the helmet of Shannon Stone, whose funeral service was held July 11. Stone, 39, was with his son July 7 at the Arlington ballpark when he fell to his death reaching to catch a ball thrown by Rangers Left Fielder Josh Hamilton.
Baseball has been referred to as America's game, the great American past time. Recently, though, one event has made fans put that game in perspective and realize that it is just that — a game.
Shannon Stone, a 39-year-old firefighter from Brownwood, Texas, was at the July 7 game between the Texas Rangers and the Oakland Athletics at the Ballpark at Arlington with his 6-year-old son Cooper. Normal protocol at your average baseball game is to toss a foul ball into the stands if it is no longer in play so that a fan can take a piece of the ballpark home with them.
After a foul ball bounced off the left field wall and rolled to Rangers left fielder Josh Hamilton feet, the 30-year-old picked it up and tossed it into the stands. The ball came up just short and when Stone went to lean over the railing along the left field line. Stone accidentally lost his balance and before he could regain it, or be caught by neighboring fans, he fell 20 feet and suffered blunt trauma that ultimately led to his untimely death. Stone fell straight down, fracturing his skull and possibly breaking his arms as well. The reason he fell straight down was because he fell directly into a small space in between a scoreboard and the railing, enabling him no room to contort his body other than the way he fell.
As for Stone's son, the 6-year-old was left alone in the stands to wait. Despite the severe injuries suffered by Stone, he still regained consciousness long enough to let the EMTs know that his son was up in the stands alone and that someone needed to get him. His son ended up riding in the ambulance with his father. Unfortunately Stone went into full arrest on the ambulance and was pronounced dead upon arrival to John Peter Smith Hospital in Fort Worth.
Even more unfortunate is that Hamilton was the one who tossed the underthrown ball. The Rangers slugger is now one of the top talents in the league, being named the American League Most Valuable Player just last year. But, life wasn't always so easy for him as the former Tampa Rays top prospect had to overcome a persistent battle with drugs for year before he was able to put his life back together. Most people close to the slugger are worried that he will blame himself for the incident, which has a chance of leading down the wrong path.
This incident, although clearly an accident, was most definitely not the first time. Exactly a year and a day earlier, a fan had fallen in the same stadium, suffering severe, however non-fatal injuries, returning home just two days later.
Also, earlier this year, a fan fell 20 feet during a Colorado Rockies game in May, hitting the concrete and also unfortunately dying.
This is a dark day for the sport indeed; especially considering this sports has a specific connotation toward being a father-son sport — most recently, during the All-Star Game Home Run Derby, the winner, New York Yankees second baseman Robinson Cano had his father throwing the pitches and, moments after winning, the two were seen in a warm embrace in celebration of the father son victory.
Now, fans are forced to see a young boy lose his father to a freak accident when, just hours earlier, he had bought his son a new baseball glove to bring to the game.
This truly is a sad day for America's past time, and most definitely puts the game in perspective.