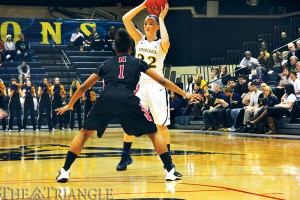 The women's basketball team wrapped up its home stand with two more games to close the week. Drexel defeated The College of William & Mary Jan. 30 before falling to Hofstra University Feb. 2. It completed a stretch in which they won two of three home games to pull their record even at 10-10, with a 5-2 record in the Colonial Athletic Association.
Expecting a closer game, compared to their last meeting against the Tribe when they shot 67 percent in the second half, the Dragons leaned on their defense. They forced 15 turnovers and allowed only 18 field goals to win their 10th game of the season, 68-42.
Rachel Pearson led all scorers with 15 points for Drexel and seven Dragons picked up at least two assists, combining for 22 as a team. Head coach Denise Dillon utilized many players in the rotation and Drexel's bench actually came close to outscoring the entire Tribe team, contributing 35 points as a supporting unit, including 13 from Tory Thierolf.
"The difference was I thought our bench was tremendous," she explained. "I just felt our bench came out hot. I thought Tory had one of the best games of her career."
Drexel was able to limit William & Mary to only three free-throw attempts, two of which they missed. Meanwhile, the Dragons shot a perfect eight-for-eight at the line.
Things did not go as well a few days later when Drexel hosted Hofstra Feb. 2. The Pride started out hot and held on for a 68-66 victory at the Daskalakis Athletic Center.
Five minutes into the game, Dillon and the Dragons found themselves in a 20-6 hole as Hofstra made seven of its first eight shot attempts of the game.
"We came out not ready to play, and they took advantage quickly," Dillon said. "I thought our focus was poor and they jumped on us."
They would turn things around and make it a game from there. After allowing only one missed shot to open the game, the CAA's leading defense put up a wall and allowed only one field goal over the next 13-plus minutes. The defensive stand allowed the offense to catch back up. Meghan Creighton hit a three, part of her team-high 18 points, to cap a 19-2 run and pull Drexel in front, 25-22.
From there, the game became a back-and-forth battle. There were 15 lead changes and the game was tied 10 times, eventually coming down to a game of possessions, defense and free throw shooting. The free throw shooting burned Drexel, as they shot just 65.2 percent from the free-throw line. Hofstra, emerging victorious, shot a much better 84 percent to win the game at the DAC.
The Dragons did have a shot in the end, however. With a chance to take a lead down by one point 66-65, Abby Reddick went to the line to attempt two shots. She could only make one, and Drexel pulled even. On the other end, Krystal Luciano drove to the hoop and dropped in the game-winner to put Hofstra in front by a bucket. Creighton launched a last-chance three that was too long, meaning Drexel came up short.
"It was a battle; it was a game of possession," Dillon said. "I just was not happy with our defense and foul shooting."
Ultimately, Drexel's strength let them down. The team leaned on their league-leading defense, which boasts a league-low 55.8 points allowed per game, to make the stops in the end. Drexel simply does not have the offensive fire power to expect to win while allowing nearly 70 points on the other end.
"Giving up 68 points, we're going to struggle to beat anyone," Dillon admitted.
Sunday's game aside, the home stand was a rather successful one for Drexel. The Dragons used it to pull it back to .500 at 10-10, an accomplishment after starting the season 2-5. According to Dillon, they also used it to get on a bit of a roll, despite the blip at the end of the final game.
"I was happy to be home and I thought we got into a little bit of a rhythm," Dillon said. "I was not happy with the Hofstra [game], but hopefully it keeps the girls motivated for the road trip."
The road trip will include stops in the Carolinas, with a game versus the College of Charleston before one at University of North Carolina Wilmington. Drexel has never traveled to Charleston, S.C., but will look for similar results after beating them at home Jan. 9, 68-55. The Dragons have yet to face UNCW this season.
One thing in particular that Dillon will look for from her squad this weekend is a push in energy. She notes that plenty of bodies are getting in the game and so the effort should match their extra energy. Ten Dragons played at least eight minutes on Sunday, and nine played at least a dozen minutes.
Creighton, who led in overall production, points, rebounds and tied for assists, was the only Dragon to play more than 30 minutes.
"We're playing with 10 players, and I feel like we should be putting more effort in on both ends of the court," Dillon said.
Both games will take place this weekend. The Dragons and Cougars will start the weekend Feb. 7 at 7 p.m., while their tilt with the Seahawks will be a Sunday, Feb. 9, matinee at 1 p.m. Two victories, one over each, would ensure Drexel remains ahead of them and no worse than second place in the CAA standings.