Drexel University Dragons (0-2) vs. University of Miami Hurricanes (2-0)
3 p.m., TD Arena, Charleston, South Carolina
Momentum check
These two squads are going in opposite directions heading into the Charleston Classic tournament, prepping what could be a mismatch for the ages.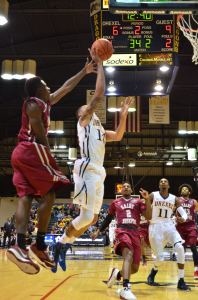 For Drexel, this challenge couldn't come at a less opportune time. The Dragons fell to Saint Joseph's University, 52-49, in a hotly-contested home opener Nov. 17, to drop to 0-2 on the season. In desperate need of a sturdy win to get the juices flowing, the team drags in an offense still searching for an identity after a poor showing that head coach James "Bruiser" Flint vocally torpedoed after the game. The Hurricanes aren't what the doctor ordered for a Drexel team still searching for its first answers of the year.
The Hurricanes couldn't be hotter, fresh off a two-point win over then-No. 8 University of Florida Nov. 17. Miami was the definitive underdog, and at halftime they trailed the Gators by double digits. But the second half came up all orange and green as guard Angel Rodriguez put on a show — on Florida's turf, no less — and sank the game-winning three-pointer with 16 seconds to play. They head into the Classic undefeated and the overwhelming favorite to take home the title.
Players to watch
Drexel guard Tavon Allen: Allen had what could be classified as the worst game of his career against St. Joe's, in volume and scope. A number of his game-high six turnovers led to Hawks points in the fast-break, and the junior shot just one of eight from the field in an astounding 33 minutes. If the Dragons have any remote chance of hanging tough with Jim Larranaga's squad, Allen will have to bounce back in a very big way or risk alienating himself further from a coach who was visibly upset with his play in the home opener.
Miami guard Angel Rodriguez: Rodriguez was the catalyst for the Hurricanes in their upset of Florida Nov. 17, scoring a game-high 24 points and knocking down six three-pointers, including the game-winner. The junior guard is operating at a marvelous level of efficiency through two games, averaging 20 points per game while shooting 44 percent from the floor, including 57 percent from behind the arc. He'll be a serious problem for the Bruiser Flint defense that has played well but has yet to successfully contain an opposing team's star player.
Last time out
Drexel has faced 146 unique opponents since 1894, Miami 196 since 1948, but Nov. 20 will mark the first time the two programs' paths have crossed.