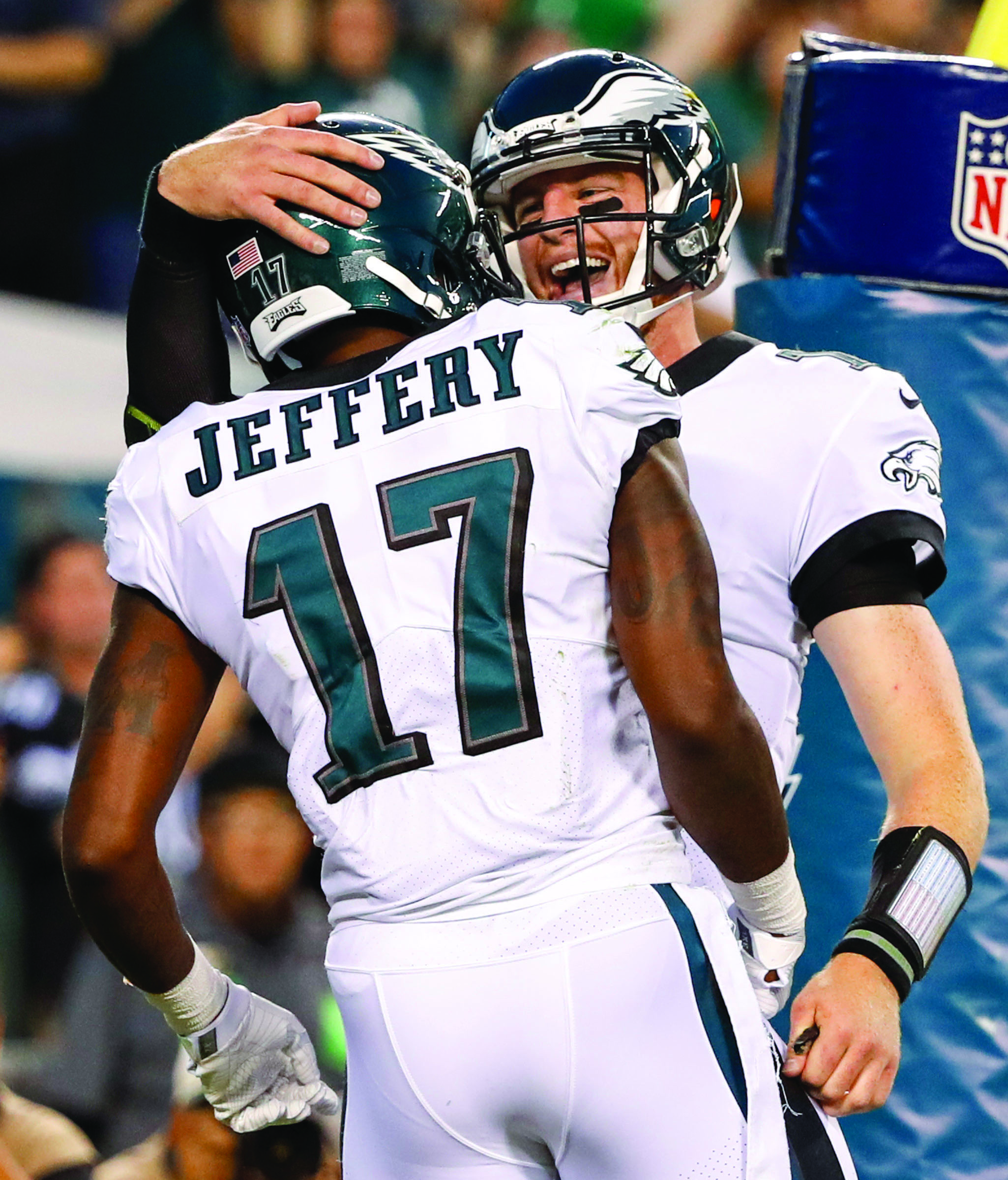 The time has finally arrived. It's the third and final part of my 2017 NFC East predictions, and this week I'll tell you who takes home the coveted crown.
Week 12:
The Dallas Cowboys play host to the Los Angeles Chargers for a Thanksgiving Day showdown 4:30 p.m. Nov. 23. San Diego takes an early lead due to a hot start from quarterback Philip Rivers. However, Dallas' defense is able to force Rivers to throw two second half interceptions, and Dak Prescott leads a fourth quarter comeback to give the Cowboys a 28-24 victory.
On Thanksgiving night, the New York Giants travel to Washington to play the Redskins 8:25 p.m. Nov. 23. Kirk Cousins feels pressure from the New York pass rush all night long. Jason Pierre-Paul records two sacks for the Giants' defense and Landon Collins has an interception. Eli Manning has a solid outing, throwing two touchdowns and keeping the ball out of harm's way. New York wins 21-10.
Unlike the other three NFC East teams, the Philadelphia Eagles do not play on Thanksgiving and instead host the Chicago Bears 1 p.m. Nov. 26. Alshon Jeffery has a field day against his old team, going for 130 yards and two touchdowns. Carson Wentz dominates, throwing for 350 yards and four touchdowns. Philadelphia's defense forces Mitch Trubisky to throw two interceptions. Philadelphia wins 31-13.
(NYG 8-3, PHI 7-4, DAL 6-5, WAS 4-7)
Week 13:
With both teams playing on Thursday for the second straight week, the Cowboys host the Redskins 8:25 p.m. Nov. 30. Much like it was in their matchup last Thanksgiving, the game is high scoring. Kirk Cousins throws for over 300 yards and three touchdowns, but he is outplayed by his Cowboy counterpart. Prescott completes over 75 percent of his passes, throws for two scores and rushes for a touchdown, leading Dallas to a 34-31 victory.
New York travels west to take on the Oakland Raiders 4:25 p.m. Dec. 3. New York's offensive line struggles against Khalil Mack, who sacks Manning twice and forces a fumble by Paul Perkins. New York's defense struggles against Oakland's offensive line and Derek Carr throws for over 300 yards. Oakland wins 28-17.
In their first of a three game road stand, the Eagles travel to Seattle to take on the Seahawks. Seattle's "12th Man" rattles Wentz early, and he throws two first half interceptions. Russell Wilson plays well, throwing three touchdowns and rushing for over 70 yards. Wentz is unable to lead a comeback, and Seattle wins 24-14.
(NYG 8-4, PHI 7-5, DAL 7-5, WAS 4-8)
Week 14:
Looking to end their losing skid, the Redskins travel to Los Angeles to take on the Chargers 4:05 p.m. Dec. 10. Kirk Cousins and Philip Rivers engage in a quarterback battle, with both of them throwing for over 300 yards. However, Cousins gets the last laugh, leading a game winning drive in the fourth quarter. Washington wins 28-24.
Philadelphia is also in Los Angeles, but they are there to take on the Los Angeles Rams 4:25 p.m. Dec. 10. Bouncing back from a poor performance the previous week, Wentz has a strong showing. The second year quarterback throws two touchdown passes and runs one in. Legarrette Blount runs for over 100 yards, and the Eagles edge the Rams 27-14.
In hopes of staying alive in the divisional race, Dallas heads to New York to take on the Giants 4:25 p.m. Dec. 10. For the first time in two years, the Cowboys figure out New York's defense. Ezekiel Elliott runs for 120 yards and two scores. Prescott throws two touchdowns passes and no interceptions. Dallas leads for most of the game, but the Giants, trailing by four with two minutes to go, have a chance to drive for a comeback win. However, the drive stalls when Manning overthrows Odell Beckham Jr. on fourth and eight. Dallas wins 31-27.
(DAL 8-5, PHI 8-5, NYG, 8-5, WAS 5-8)
Week 15:
Washington hosts the Arizona Cardinals 1 p.m. Dec. 17. Cousins plays well for the second straight week, and the Washington defense forces three turnovers. Washington wins 27-17.
The Eagles head to New York for a game that could decide the division crown at 1:00 p.m. Dec. 17. After Wentz leads a scoring drive on Philadelphia's opening possession, Manning throws a pick-six to put the Giants in a 14-point hole. However, the Giants claw their way back into it, thanks to a gutty performance from Sterling Shepard. The second year receiver catches 10 passes for 120 yards and two touchdowns. Shepard's second score comes with four minutes left in the game, and gives the Giants a four point lead. On the ensuing possession Eli Apple intercepts Carson Wentz, and the Giants win 24-21.
Dallas goes on the road to take on the Oakland Raiders 8:30 p.m. Dec. 17. The game is a shoot-out from start to finish. Derek Carr throws for over 350 yards and four touchdowns for the Raiders. Prescott and Elliott do their best to keep Dallas in the game, but Carr gets the last laugh by leading a game-winning field goal drive as time expires. Raiders win 37-34.
(NYG 9-5, DAL 8-6, PHI 8-6, WAS 6-8)
Week 16:
Washington hosts the Denver Broncos 4:25 p.m. Dec. 24. Denver's defense causes problems all evening for Kirk Cousins, whose Christmas Eve ends with him having only one thing on his list: a better offensive line. Von Miller sacks Cousins twice, and the pressure Denver creates off the edges causes Cousins to throw two interceptions. Denver wins 21-13.
Dallas hosts the Seahawks 4:25 p.m. Dec. 24. Early on, the Cowboy offensive line is able to keep Seattle's front seven from pressuring Prescott. However, the game takes a turn in the third quarter when Prescott throws a pick-six to Richard Sherman. With the momentum flip, Seattle's defense returns to its championship form and holds the Cowboys to just two field goals in the second half. Seahawks win 24-20.
The Giants come out strong on the road against the Cardinals 4:25 p.m. Dec. 24. Manning has a big first half, throwing for 180 yards and two touchdowns in that time frame. New York's defense slows down Arizona's rushing attack and forces the Cardinals to commit three turnovers. New York wins 27-17.
The Eagles host the Oakland Raiders Christmas night 8:25 p.m.. Wentz plays well, throwing for 300 yards. Carr also has a solid game and leads a go ahead drive in the fourth quarter, which is capped by a touchdown pass to Michael Crabtree with 1:40 to go. However, Wentz leads an incredible comeback drive, culminating with a Blount touchdown run with just 15 seconds remaining. Eagles win 30-27.
(NYG 10-5, PHI 9-6, DAL 8-7, WAS 6-9)
Week 17:
Philadelphia plays host to Dallas for a game that will determine the final NFC  Wild Card team at 1 p.m. Dec. 31. Ezekiel Elliott stars for the Cowboys, rushing for 140 yards and two scores. However, Prescott struggles and Wentz shines. With his team trailing by four points early in the fourth quarter, Prescott throws an interception at midfield. Wentz capitalizes by leading a touchdown drive, and the Eagles never look back. Philadelphia wins 28-20.
New York hosts the Redskins with a chance to clinch the division crown 1 p.m. Dec. 31. Washington comes into the game looking to play spoiler, and early on it appears as if they will. Cousins comes out hot, leading a quick touchdown drive on the game's' opening possession. Manning responds with a scoring drive of his own, and the two quarterbacks go back and forth in the first half. However, New York's defense settles down in the third quarter, holding the Redskins scoreless the rest of the way. New York wins 28-21.
Final standings: NYG 11-5, PHI 10-6, DAL 8-8, WAS 6-10.
That's how I see it playing out. Only time will tell.