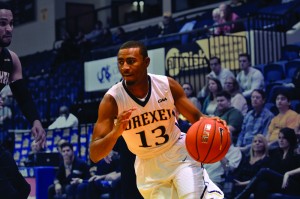 In Bruiser Flint's offense, everything begins with the point guard position. The point guard brings the ball up in each half-court possession and is charged with running Flint's screen-based offense, at least until a man is left open on the perimeter.

Because of the way the offense is set up, turnovers by the point guard will often lead to fast-break points for the opponent, which means the Flint's point guard needs to be able to take care of the ball.

Last season the team's presumed starting point guard, Major Canady, went down with a dislocated ankle before the season began, leaving freshman Rashann London to orchestrate the team's offense.

The Dragons committed 10.4 turnovers per game with London at the helm, nearly two more per game than the 2013-14 season but still one less than in the 2011-12 and 2012-13 seasons.

With Canady, a sophomore, returning this season at full strength and London, also a sophomore, coming off a season's worth of starter's experience, the point guard position is at a critical (pardon the pun) point.

Still four and a half months out from the team's opener against St. Joseph's University, this is where we turn to the box scores and spreadsheets.

To begin, we know one thing for certain: we have a better, deeper pool of evidence for London than we do for Canady. London started all 30 games last season, one of only two Dragons to do so, and averaged 30.3 minutes per game. He played all 40 minutes of a game four times.

On the flip side, Canady started just 14 of 30 games in his freshman year and was not the primary ball-handler during those games, deferring instead to Frantz Massenat. Canady averaged 16.0 minutes per game.

To get a fairer view of what London and Canady each bring to the table in terms of earning the starting position, we can look at what their numbers would be if they were to average 30 minutes per game.

In his freshman year, London averaged 6.9 points, 2.1 rebounds, 1.5 assists and 1.8 turnovers per 30 minutes of action.

Looking at Canady's numbers from his freshman year and assuming a continued trend to reach 30 minutes,, he averaged 3.9 points, 3.2 rebounds, 1.7 assists and 1.0 turnover.

Since London averaged 30.3 minutes per game to begin with, these numbers are largely similar to his per-game averages, and they're not bad. He was brought in with a spot at shooting guard in mind, so his 6.9 points are a good sign from a freshman.

However, London certainly seemed to be more of a scorer than a point guard. He had the second-most turnovers of any player on the team, and his 1.5 assists per game weren't tremendously eye-popping. London found his shooting touch early in the season before watching it disappear as he and the team dealt with fewer offensive options because of injuries.

An interesting discrepancy, and one that could set a line of distinction between the two guards in terms of offensive production, is the way they attack the hoop.

London did show a willingness and ability to score at the rim that Canady didn't display in his freshman season; the two both shot roughly one quarter of their attempts at the rim, but London made 54.7 percent of his while Canady converted just 37.5 percent, according to Hoop-Math.com.

If Flint is looking for a point guard who can score the ball and draw fouls inside, London is likely his guy. The fact of the matter is Canady isn't going to be a big, volume scorer for this team. His 3.9 points per 30 minutes would likely see a boost this season, with Frantz Massenat and Chris Fouch both graduated and a more by-committee offensive attack seeming imminent. But that's not the point of his game.

As a starting point guard, Canady's primary objective would be to keep the offense in check and make sure the Dragons don't turn the ball over. Canady's one turnover per 30 minutes is certainly an encouraging statistic, and his 3.2 rebounds are beefier than London's 2.1 boards per 30 minutes.

In the end, it depends on what Flint wants from his offense and from his starting point guard. Does he want a slicer, similar to what he had in Frantz Massenat for four years, who gets to the rim and finishes strong in the lane? If so, London is his guy.
If Flint is leaning more towards an inside-outside attack where his forwards dominate the paint and his guards stay outside, he could tap Canady to coordinate the attack from the point.

Terrell Allen, a 6-foot-2-inch,175-pound point guard from DeMatha Catholic High School, will begin the season as the team's number three option at point guard and likely won't see very much playing time in his freshman year unless he shows coaches something truly special before the season starts.

Allen averaged 8.5 points per game as a senior and shot 77 percent from the free throw line on a DeMatha team that went 33-4, including 14-2 in its region.

Allen will be more of a project for the Dragons in his first season, although the depth he adds to the team won't be overlooked by Flint and company, especially after a year in which Drexel was barely able to field a team due to injuries.

But the position will largely be left to Canady and London, either on a shared-workload basis or with one of the two winning the job over the summer. As we approach summer workouts, this will be the most important aspect of the Dragons' upcoming season to pay attention to.